Israeli forces say they have killed two Palestinian militants accused of shooting dead a British-Israeli woman and her two daughters in the occupied West Bank last month.
A third militant who allegedly aided the pair was also killed during the raid in the city of Nablus.

Several Palestinians were also injured in confrontations with the troops.

Lucy Dee, 48, and her daughters Rina, 15, and Maia, 20, were killed in an attack in the Jordan Valley on 7 April.

They were travelling to an event for the Passover holiday when gunmen opened fire at their car near the settlement of Hamra, 16km (10 miles) west of Nablus.

Their car crashed and the gunmen fired again at close range.

Rina and Maia died at the scene, while Lucy died in hospital three days later.

Their family moved to Israel from the UK nine years ago and lived in the West Bank settlement of Efrat.

In Thursday's early morning raid in Nablus, more than 200 Israeli soldiers entered the Old City, using shoulder-mounted anti-tank missiles and stun grenades fired from drones.

Residents said they heard explosions while people were preparing to go to work and children left home for school.

Outside the Old City, troops reportedly fired at Palestinians who were trying to repel the military vehicles by throwing stones at them.

Paramedics said four people were taken to hospital, two with bullet wounds to the legs, and that dozens more suffered from tear gas inhalation. The Palestinian health ministry said those affected included pupils in a nearby school.

Fawaz Bitar, a paramedic with the Palestinian Red Crescent, told the BBC that crews in clearly marked vests could not reach the site of the damaged building for an hour and a half because Israeli troops targeted them with tear gas and rubber bullets.

The Israel Defense Forces (IDF) said troops targeted an apartment where the "murderers of Leah [Lucy's Hebrew name], Maia and Rina Dee" were hiding.

It identified them as Hassan Qatanani and Moaz Masri and said they were members of the Palestinian militant group Hamas.

The two men were killed in an exchange of fire along with a senior Hamas operative who helped them escape the scene of last month's attack, the IDF added, naming him as Ibrahim Jabr. It also said three assault rifles were found inside the apartment.

The Palestinian health ministry said three Palestinians had died but that it was not immediately able to identify two of them due to the severity of their injuries.

Hamas's military wing, the Izzedine al-Qassam Brigades, later confirmed that Qatanani, Masri and Jabr belonged to the group and that they were behind the attack that killed Lucy Dee and her daughters.

Green Hamas flags were carried by mourners at the men's funerals, which hundreds of people attended.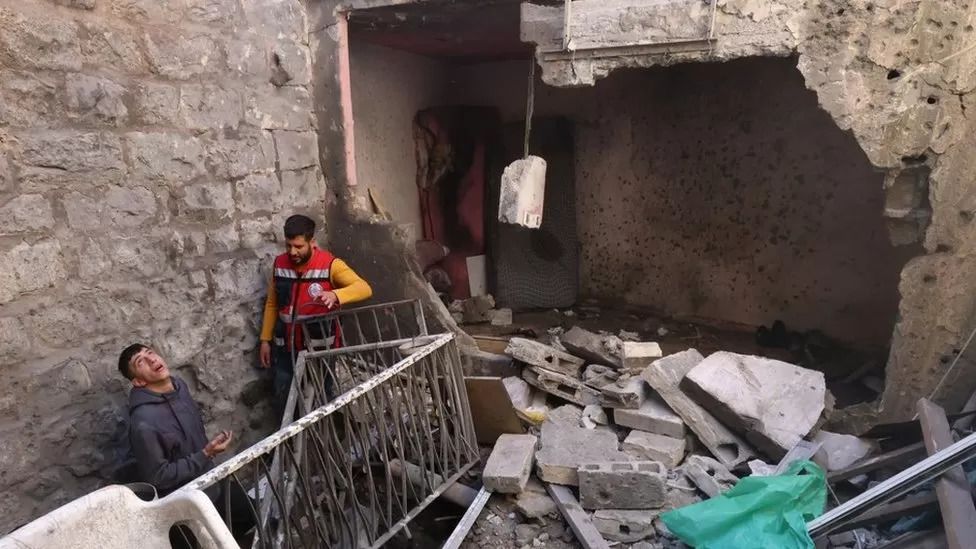 Lucy (left) died three days after the shooting which killed her daughters Rina (centre) and Maia Dee

Rabbi Leo Dee, Lucy's widower, said in a statement that he and their three surviving children were "comforted to hear that the Israeli security forces have eliminated the Iranian-funded terrorists responsible for Lucy, Maia, and Rina's murders".

"This has been done in a way that has not endangered the lives of Israeli soldiers, nor innocent Palestinian civilians," he added.

Israel's Prime Minister, Benjamin Netanyahu, praised its security forces for showing that attackers would eventually be found and "pay the price".

"Our message to those who harm us, and those who want to harm us, is that whether it takes a day, a week or a month - you can be certain that we will settle accounts with you," he said.

Palestinian Prime Minister Mohammed Shtayyeh condemned deadly raid in Nablus and said he held the Israeli government responsible for "these crimes against Palestinian people", according to the Wafa news agency.

The centre of Nablus has become a holdout for the militant group the Lion's Den, and has seen frequent raids by Israeli forces over the last year, killing civilians and militants, as a wave of deadly Palestinian attacks targeting Israelis has continued.

Many Palestinians see the emergent armed groups in Nablus and Jenin as one of only effective forms of resistance to Israel's military occupation, now in its 56th year.

The Western-backed Palestinian Authority (PA), seen by many ordinary Palestinians as weak and ineffective, has lost security control to the groups in much of the northern West Bank. US-backed attempts to strengthen the PA's grip appear so far to have failed, while human rights groups criticise Israel for repeatedly using excessive force in civilian areas targeting militants.

In a separate incident on Thursday just to the south of Nablus, Israeli forces shot dead a Palestinian woman after she allegedly stabbed an Israeli soldier in the town of Hawara. The IDF said the soldier suffered minor injuries.

The Palestinian health ministry said the woman, whom it named as Iman Odeh, was shot in the chest and died of her injuries after being taken to hospital.

Since the start of this year, more than 100 Palestinians have been killed by Israeli forces. Eighteen Israelis, one Ukrainian and one Italian have been killed in attacks by Palestinians.