Protests against authorities in Iran in the wake of a deadly building collapse are continuing a week after the incident, videos on social media show.
Angry demonstrators have taken to the streets nightly across Khuzestan province, where the unfinished building fell down last Monday.

The death toll rose to 34, with four people still missing, the state news agency Irna reported on Tuesday.

The incident in Abadan is the deadliest of its kind in Iran for years.

Thirteen people, reportedly including the mayor, two former mayors and the building contractor have been arrested over the collapse, Irna says.

However protesters are blaming the wider authorities, accusing them of negligence and corruption.

Demonstrations have also been held in other parts of Iran, with shouts of "Death to Khamenei!" - a reference to Iran's supreme leader - heard on unverified video posted on social media and said to have taken place in the south of the Iranian capital, Tehran, on Monday night, Reuters news agency reported.

Similar shouts were heard at protests in the southern port city of Bushehr, Reuters said.

On Sunday, a cleric sent by the ruler Ayatollah Ali Khamenei was shouted down as he tried to address mourners near the site of the collapse.

He was heard to whisper to a bodyguard "What's happening?" before trying to calm the crowd, which responded with cries of "Shameless!", according to the Associated Press news agency.

Some rushed a platform used by state TV which was showing the event, cutting off the broadcast, local media said.

Police used force against the protesters there and unverified video also purported to show violence between police and demonstrators in other unidentified places, Reuters said.

A search and rescue operation meanwhile is continuing at the site of the collapsed 10-storey Metropol office block.

Irna reported that the lower floors of the building, on Abadan's busiest commercial street, had been open for a few days while construction work continued above.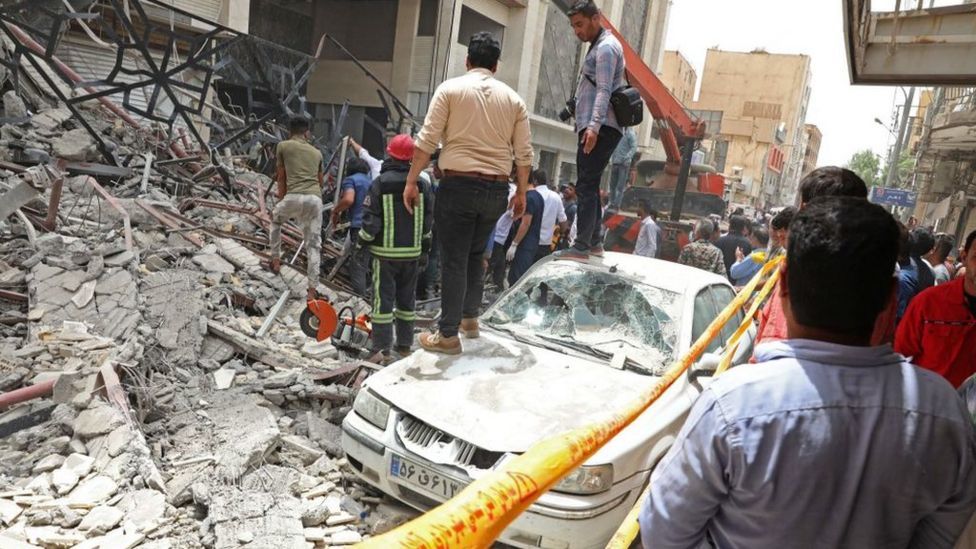 The Metropol building was located on one of Abadan's busiest commercial streets

The incident has raised questions about building safety standards in the country.

During the 1980s Iraq-Iran war, the region faced huge destruction - and many of the projects to rebuild the area were criticised for poor construction practices.
Watch: The aftermath of a deadly building collapse in Iran