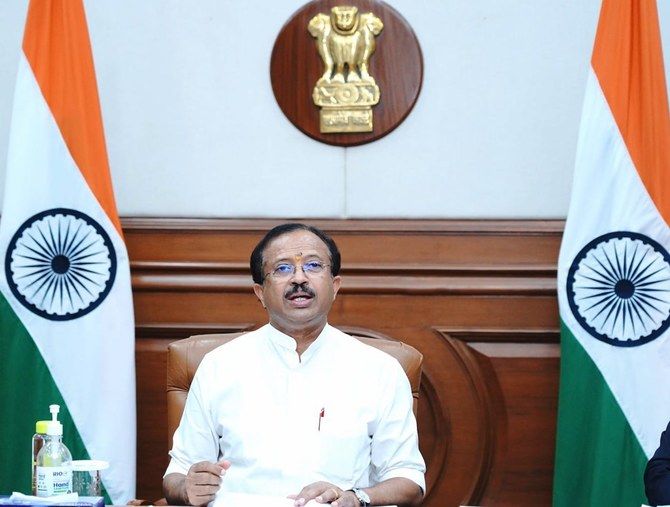 Indian minister's Saudi visit to boost strategic partnership
India's junior foreign minister will seek to further the country's strategic partnership with Saudi Arabia when he arrives in Riyadh on Monday, according to New Delhi.
Minister of State for External Affairs V. Muraleedharan will also visit Bahrain as part of a five-day trip, which includes meeting his counterparts and the Indian diaspora in both countries, the Indian Ministry of External Affairs said on Sunday.

Muraleedharan's visit comes after India's External Affairs Minister S. Jaishankar made his first official trip to Saudi Arabia in September. He and his Saudi counterpart, Prince Faisal bin Farhan, co-chaired the inaugural ministerial meeting of the Committee on Political, Security, Social and Cultural Cooperation under the framework of the India-Saudi Arabia Strategic Partnership Council.

Saudi-Indian ties reached new highs when Crown Prince Mohammed bin Salman visited Delhi in February 2019. In October that year, Indian Prime Minister Narendra Modi visited Riyadh at the invitation of King Salman, and the Strategic Partnership Council was established.

The partnership is focused on political issues, security, sociocultural relations and defense corporation.

While in Riyadh, Muraleedharan will meet Saudi Deputy Foreign Minister Al-Khuraiji as well as various Indian companies and organizations. On Wednesday, he will visit the Eastern Province to meet its top leaders.

The trip comes just days after Muraleedharan's visit to Jeddah, where he coordinated the evacuation of Indian nationals from Sudan under Operation Kaveri.

Observers said Saudi Arabia's support for the operation had helped bolster relations between India and the Kingdom as most Indians were evacuated by sea through the port of Jeddah.

Delhi said it was extremely grateful to the Kingdom on Thursday, when the first group of evacuees from Sudan reached the Indian capital after fleeing intense fighting that has so far killed over 500 people and injured at least 4,200 others.

After visiting the Kingdom, Muraleedharan will travel to Bahrain, where he "will hold discussions with various dignitaries and meet Indian community organizations," the ministry said.