India's Minister of State for External Affairs and Parliamentary Affairs V. Muraleedharan said India's economic ties with Saudi Arabia "have progressed from being an energy partnership to a diversified commercial collaboration."
Speaking to Arab News during an interview in Riyadh on Tuesday, the visiting minister said: "Our bilateral trade has witnessed significant growth in the last few years and exceeded $50 billion in the last fiscal year. Both India and Saudi Arabia are vibrant economies having a good growth projection and their trade engagements are bound to multiply in the coming years."

Bilateral investment exchanges have also multiplied and Saudi direct investments in India are valued at approximately $3 billion. "There are indirect investments of around $5 billion in the Vision Fund where the Public Investment Fund is a major partner. Similarly, Indian investments in the Saudi economy are projected to experience steep growth and have already reached nearly $2 billion."

He said the two countries "are keen to move the momentum of our economic partnership forward by deepening and diversifying our collaboration in finance, IT, construction and logistics."

The Indian government is keen to strengthen partnerships with Saudi Arabia in what Muraleedharan described as the 3Ts — "trade, tourism and technology." The four joint working groups under the Committee on Economy and Investments — Agriculture and Food Security, Energy, Technology and Information Technology, and Industry and Infrastructure — are all closely involved, he said.
India is one of the world's fastest growing major economies, the minister said. "After manifesting resilience and quick revival, India's economy surpassed the UK last year, to become the world's fifth-largest economy. With this growth rate, it is projected to become a $40-trillion economy by 2047 which happens to coincide with the centenary of India's independence."
During his visit, the minister met with Saudi Arabia's Deputy Minister of Foreign Affairs Waleed A. Elkhereiji, Deputy Minister for International Affairs Dr. Adnan Al-Nuaim, and Deputy Minister for Skills and Training Dr. Ahmed Al-Zahrani.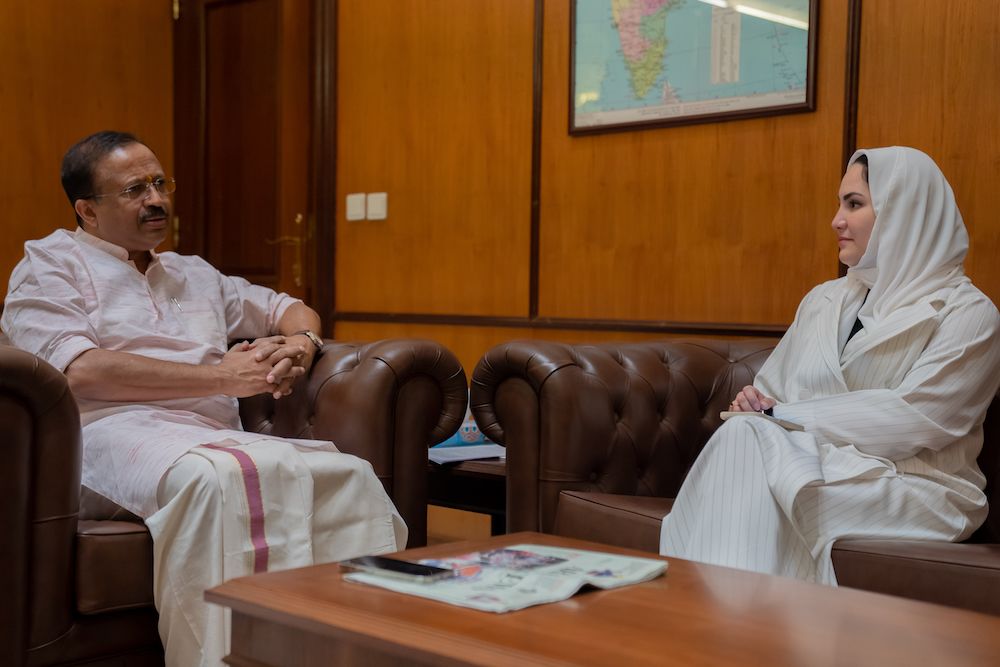 India's Minister of State for External Affairs and Parliamentary Affairs V. Muraleedharan speaking to Arab News during an interview in Riyadh.

"During my meeting with Waleed Elkhereiji, I reviewed all aspects of India-Saudi Arabia bilateral relations. All matters pertaining to the Indian community in the Kingdom were reviewed with Saudi officials."

He said he had a significant interaction with Indian community members in the Kingdom during the course of his visit. "The Indian community members act as a living bridge between India and Saudi Arabia. Their contributions to both countries are both highly commendable and extremely valuable."

Bilateral relations between the Kingdom and India have gone on for 77 years and have "witnessed unprecedented growth in the last few years." Driven by the dynamic leaderships in both countries, "India and Saudi Arabia now enjoy a holistic partnership which includes all major areas of cooperation including political, economic, defense and security, cultural, and strong people-to-people ties."

He underlined the fact that "both countries are closely working together on intra-regional and international platforms which include the GCC and the G20."

The Strategic Partnership Council agreement was signed in 2019, during the visit of Prime Minister Narendra Modi to Saudi Arabia. Ministerial-level meetings of both the Committee on Political, Security, Social and Cultural Cooperation, and the Committee on Economy and Investments concluded last year in September. "They laid the groundwork for the high-level meeting likely to happen this year itself which will be chaired by Prime Minister Modi and Crown Prince Mohammed bin Salman," the minister said.

Highlighting the robust and burgeoning defense ties, Muraleedharan said: "Our two countries are cooperating in an unprecedented manner. In 2021, we held the first bilateral naval exercise 'Al-Mohd Al-Hindi.' The second exercise will be held soon in Saudi Arabia. Several fighter aircrafts of the Indian Air Force made their first-ever landing in Saudi Arabia this year. A number of delegations from both countries are visiting each other. Overall, we have developed a high level of trust and confidence between the defense establishments on both sides. We are also exploring cooperation in newer areas such as space."

The great changes Saudi Arabia has experienced because of Vision 2030 is noticed particularly by the minister. "Saudi Arabia is going through a massive transformation under the visionary and futuristic leadership of Crown Prince Mohammed bin Salman. We are happy that there are a number of opportunities for collaboration in economics, socio-cultural activities, sports, and in the entertainment sector."

As India hosts the G20 this year, the chosen theme is "One Earth, One Family, One Future." The country is hosting more than 200 meetings in more than 50 cities across 32 workstreams. These include the meetings of the Finance Track, the Sherpa Track, 13 Working Groups, two Initiatives of the Research Innovation Initiative Gathering (RIIG and G20), along with various engagement groups. "These meetings will bring together ministers, government representatives, civil societies, parliamentarians, think tanks, women, youth, labor, businesses and researchers from all the G20 countries," he said.

Regarding Operation Kaveri, which was the evacuation of Indian nationals from Sudan, he praised Saudi Arabia. "I would like to express my sincere gratitude to the Saudi leadership and Saudi authorities for their fullest cooperation in Operation Kaveri."

Last week, on the instruction of India's prime minister, Muraleedharan traveled to Jeddah to oversee the evacuation process. "I must place my appreciation on record for the excellent support of the Saudi authorities. Saudi Arabia made the evacuation process look easy, which was in fact difficult, in light of the complexities involved. Full credit must go to the Saudi authorities," he said.

India's prime minister is personally monitoring Operation Kaveri, he explained. "He is committed to transporting all Indian citizens from Sudan to their Motherland and is making all-out efforts to ensure the safety and security of all Indians stranded in Sudan."

"So far, we have safely rescued approximately 3,100 Indian nationals from Sudan. Our navy, air force, embassy officials and community volunteers have done — and are doing — a tremendous job in this regard. Indian Ambassador Dr. Suhel Ajaz Khan is coordinating the evacuation operations with involved personnel in Jeddah. We may be able to complete the evacuation operation soon," he added.

India has prioritized the following topics for its G20 presidency:

- Green Development, Climate Finance and Lifestyle for Environment (LiFE)

- Accelerated, Inclusive & Resilient Growth

- Accelerating Progress on Sustainable Development Goals (SDGs)

- Technological Transformation & Digital Public Infrastructure

- Multilateral Institutions for the 21st century

- Women-led development