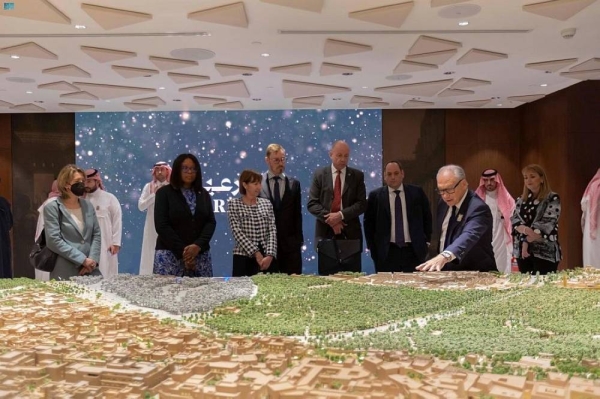 Expo 2030 to bring the world to Riyadh with a unique visitor experience
Members of the Bureau International des Expositions (BIE) Enquiry Mission met on Thursday with Minister of Commerce Majid Al-Kassabi and discussed in detail Saudi Arabia's bid to host the Riyadh Expo 2030.
The BIE team also met Ahmed Al-Khateeb, minister of tourism, who laid out the government's blueprint for what he called "the most impactful site and visitor footprint" for Riyadh Expo 2030.

The minister declared: "We are on track toward developing a sustainable tourism sector and realizing promising projects that will make the Kingdom, and Riyadh in particular, one of the most important tourist destinations in the world. Our plans will contribute to achieving our vision to welcome 100 million tourists by 2030."

He affirmed the Kingdom's determination and the readiness of the Saudi capital to accommodate the largest number of visitors to the Expo 2030.

Since the Kingdom first opened its doors to international visitors, it has seen fundamental changes in its hospitality industry, making it attractive to the global leisure traveler.

The BIE delegation continued its visit to the headquarters of the Diriyah Gate Development Authority (DGDA), where they were briefed on its development plans by CEO Jerry Inzerillo. The delegation then took a tour of Turaif and Bujairi districts.

The day ended for Enquiry Mission members at a dinner with Faisal Al-Ibrahim, minister of economy and planning, who highlighted Saudi Arabia's efforts to diversify its economy and increase the share and GDP contribution of the non-oil sector.

"Riyadh has a great role to play in the Kingdom's economic diversification strategy, as a growing regional hub for larger multinational companies of different strategic sectors," Al-Ibrahim said.

Boosting tourism is a key part of the economic diversification strategy, he said.

Since Saudi Arabia opened its doors to the world with the launch of a tourism visa, visitors from around the world have come to explore the country's ancient history, striking landscapes and hospitality. Last year, Saudi Arabia welcomed 67 million visitors.

The proposed date to host the World Expo in Riyadh in 2030 is from Oct. 1, 2030 to March 31, 2031, given the good weather in the capital during this period.