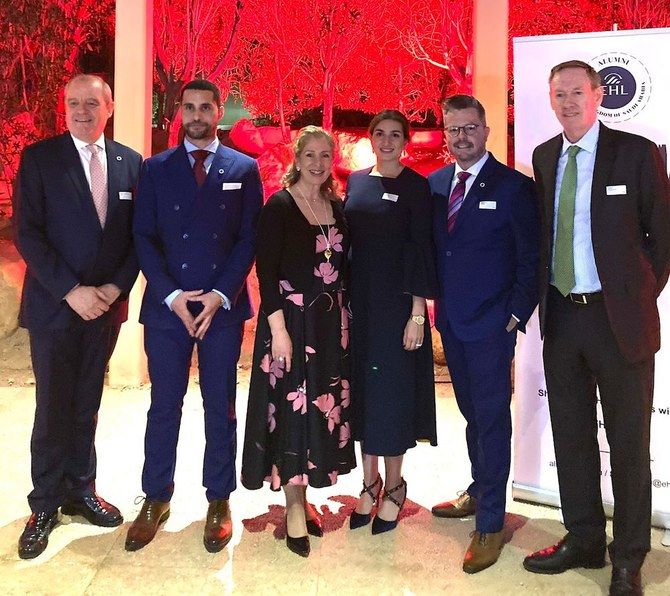 EHL launches Saudi alumni chapter in Riyadh
The world's top hospitality training facility, Switzerland's EHL Hospitality Business School, has launched a Saudi alumni chapter in Riyadh.
The inauguration was hosted by Swiss Ambassador to Saudi Arabia Yasmine Chatila Zwahlen, and comes as the Kingdom's hospitality sector records surging growth.

With a multitude of high-profile hospitality development projects underway across the Kingdom, from eco-resorts on the Red Sea to historic desert sites like AlUla, Saudi Arabia stands on the brink of a new era of tourism, leisure and hospitality development.

The guest list at the event comprised a diverse group of prominent figures in the Kingdom's hospitality and tourism industry, managers from the Kingdom's most prominent hotels, in addition to senior executives from EHL Group, who arrived from Lausanne to attend the event.

Zwahlen said: "This event illustrates the worldwide importance of Switzerland in the field of hospitality as well as the growing importance of this sector in Saudi Arabia and the growth of cooperation between our two nations."

Opened in 1893 in Lausanne, for over 125 years EHL has pioneered Swiss hospitality education and set the standards of excellence in the field. Today, EHL combines the Swiss values of academic rigor and industry practice, with creativity and innovation, preparing graduates to lead the future of the industry.

The Saudi alumni chapter, known as the KSA STAMM, will be led by Nassiba Khashoggi, Mohamed El-Sharkawi, Andre Herrenschmidt and Francois Waller.

Khashoggi and El-Sharkawi released a joint statement that said: "A key pillar of Vision 2030 is to highlight the importance of the hospitality and tourism sector in diversifying the economy away from oil, while creating jobs and a better life for Saudi citizens … EHL's STAMM presence in the Kingdom will look to facilitate the growth of the sector by fostering an environment which creates value for the hospitality sector and its citizens in various capacities.

"We will look to exemplify and embody Swiss excellence in hospitality in a nation that's radically gearing up to be one of the top travel destinations in the world."

Waller, general manager at Sheraton Riyadh and chairman of the Marriott Business Council in Saudi Arabia, said: "We are proud to be able to assist our Stammlady and Stammvater in creating the Saudi chapter and as a team showcase the true potential of Saudi hospitality envisioned in the Vision 2030 hospitality goals."

Herrenschmidt, general manager of Waldorf Astoria and Hilton hotels, said: "The goal of our STAMM is to deliver the ultimate Arabian experience and to participate in Vision 2030 hospitality goals.

"We are excited to train future generations of young Saudi men and women to the highest standards of the EHL."

EHL Group also has a strategic alliance with NEOM. The official launch of KSA STAMM serves to open many doors toward the ever-growing expansion of the Saudi hospitality sector.