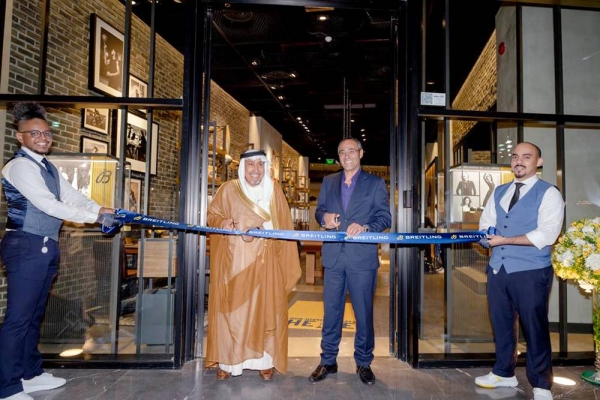 Breitling opens first boutique in Jeddah
Breitling has opened the doors to its first boutique in Jeddah. The new boutique, which can be found in Roshana Mall, Al Tahlia Street, was officially opened on Wednesday by Sheikh Mohammed Al-Hussaini, CEO of Al-Hussaini Trading Co, and Aed Adwan, managing director, Breitling Middle East.
Located on the ground floor of the popular shopping destination, the 123m² boutique showcases the brand's now familiar industrial-loft design concept, complete with exposed ceilings and brick walls.

At the center of the new boutique is an eye-catching yellow grid panel stamped with a Breitling 'B'. Wall-mounted propellers and surfboards, as well as unique artefacts guide visitors to explore the boutique's air, sea and land watches.

Breitling's modern-retro design values are brought to life through vintage decor and artwork, streamlined with contemporary design elements.

This unique mid-twentieth century loft impression is visible to passers-by through a glass store fascia, ensuring that customers feel immersed in the relaxed ambience before they have even entered.

Guests can enjoy a home-from-home feeling in the lounge area, whilst the Watch Bar and its leather bar stools provide the perfect location to try on watches.

Commenting on the opening, Breitling Middle East Managing Director Adwan said: "We are thrilled to offer the full Breitling experience to our brand fans and soon-to-be fans in Jeddah.

"Saudi Arabia is a key market for us, in the last 12 months we have opened three boutiques in the Kingdom and we have three further openings planned by the end of 2023."

Approachability and inclusiveness are two key drivers of Breitling's unique boutique design concept. Evoking the sensation of a contemporary urban home allows customers to feel completely at ease and relaxed whilst exploring Breitling's entire range.

The extensive collection includes Breitling's core offerings as well as special and limited editions, such as the special edition Navitimer Automatic 41, which was launched last month exclusively for the Middle East market.

Founded in 1884, Breitling is a leading Swiss watchmaker. The innovative company invented the modern chronograph and pioneered the navigational tool watch. Today, it's still breaking new ground as a casual, inclusive, and sustainable luxury brand with more than 200 industrial-loft-inspired retail locations around the world.