Bangladesh's Ambassador to Saudi Arabia, Mohammed Javed Patwary, said his country has progressed both economically and socially as its Riyadh embassy celebrated the 52nd anniversary of Independence Day.
Mayor of Riyadh Prince Faisal bin Abdulaziz bin Ayyaf was the chief guest at the cultural program and a reception hosted at the Cultural Palace in the Diplomatic Quarter, Riyadh, on Thursday night.

Ambassador Mohammed Al-Rashid, director-general, protocol division, Saudi Ministry of Foreign Affairs, along with members of the Shoura Council, ambassadors and diplomats from foreign missions, ministry officials, representatives from chambers, Bangladesh community members and businessmen attended the national day reception.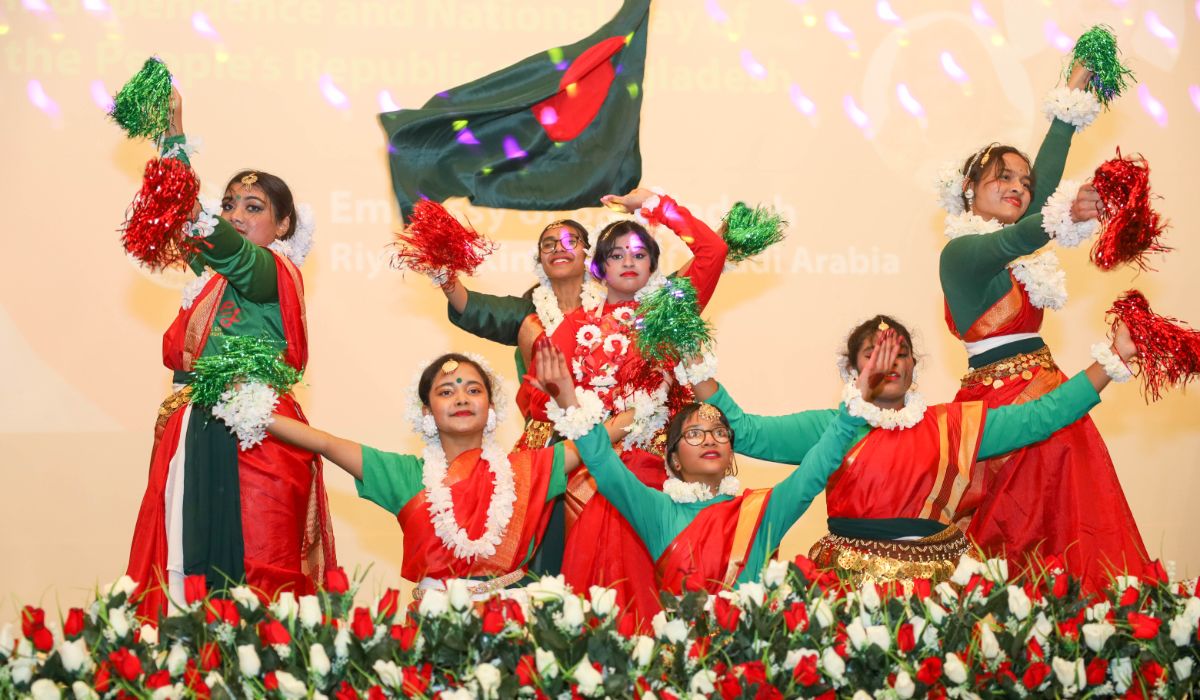 Cultural program at Bangladesh Independence Day function in Riyadh.

The day celebrates Bangladesh's declaration of independence from Pakistan in 1971, ending a liberation war that lasted for nine months.

The Bangladesh ambassador recalled the sacrifices of Bangabandhu Sheikh Mujibur Rahman and the freedom fighters who sought independence. They pursued the long-cherished dream of "Sonar Bangla," meaning an independent and prosperous country free from discrimination, subjugation and injustice.

Patwary said: "Bangladesh had achieved independence by nine-months-long blood-stained liberation war under the leadership of Father of the Nation Bangabandhu Sheikh Mujibur Rahman and with the sacrifice of the lives of 3 million people.

"Today Bangabandhu's daughter and Prime Minister Sheikh Hasina has been working relentlessly to implement Bangabandhu's Golden Bengal dream and to make Bangladesh a developed country by 2041, with smart citizens, smart government, smart society and smart economy," he added.

The ambassador thanked King Salman and Crown Prince Mohammed bin Salman for supporting Bangladeshi expatriates in the Kingdom.

He also thanked the Saudi leadership and government authorities for helping to evacuate almost 700 Bangladeshi nationals stranded in Sudan.

"Saudi Arabia is Bangladesh's tested friend and Bangladesh had enjoyed warm bilateral relations with the Kingdom since the inception of diplomatic relations. This relationship is based on our shared values, common understanding on global peace and harmony, and commitment to concerted bilateral cooperation toward advancing economic activities and issues of mutual interest," Patwary said.

"We would like to take our relationship to a new height in the coming days, particularly in the areas of security, trade, investment, education, health, agriculture, climate change and environmental protection, and manpower between the two brotherly countries."

Documentaries on Bangladesh's development, investment and tourism opportunities were shown during the cultural program.

A group dance titled "Joy Bangla" was performed by the students of Bangladesh International School in Riyadh, and an exhibition of Bangladeshi handicrafts was also organized at the reception.