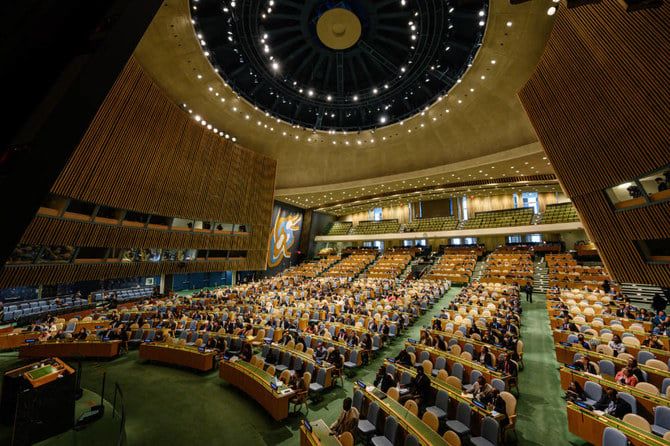 40 nations urge Israel to lift 'punitive' sanctions on Palestinians
Some 40 countries on Monday called on Israel to lift sanctions it imposed on the Palestinian Authority earlier this month over its push to get the UN's top court to issue an advisory opinion on the Israeli occupation.
On December 30, the UN General Assembly passed a resolution requesting an opinion from the International Court of Justice on the issue of the Israeli occupation of Palestinian territories.

In retaliation, Israel announced a series of sanctions, including financial ones, on January 6 against the Palestinian Authority to make it "pay the price" for pushing for the resolution.

In a statement to journalists Monday, some 40 United Nations member states, reaffirming their "unwavering support" for the ICJ and international law, expressed "deep concern regarding the Israeli government's decision to impose punitive measures against the Palestinian people, leadership and civil society following the request by the General Assembly" to the court.

"Regardless of each country's position on the resolution, we reject punitive measures in response to a request for an advisory opinion by the International Court of Justice, and more broadly in response to a General Assembly resolution, and call for their immediate reversal," the members said.

The statement is signed by countries that voted for this resolution (Algeria, Argentina, Belgium, Ireland, Pakistan and South Africa, among others) but also by some that abstained — Japan, France and South Korea — and others that voted against, like Germany and Estonia.

"This is significant as it shows that regardless of how countries have voted, they are united in rejecting these punitive measures," the Palestinian ambassador to the UN, Riyad Mansour, said in a statement.

Asked about the members' statement, a spokeswoman for the UN secretary-general reiterated Antonio Guterres's "deep concern" about "recent Israeli measures against the Palestinian Authority," stressing that "there should be no retaliation" in connection with the ICJ.

A UN Security Council meeting on the Palestinian issue is scheduled for Wednesday.

A previous meeting this month, after the visit of an Israeli minister to the Al-Aqsa Mosque, known in Judaism as the Temple Mount, led to a tense verbal exchange between Israeli and Palestinian diplomats.