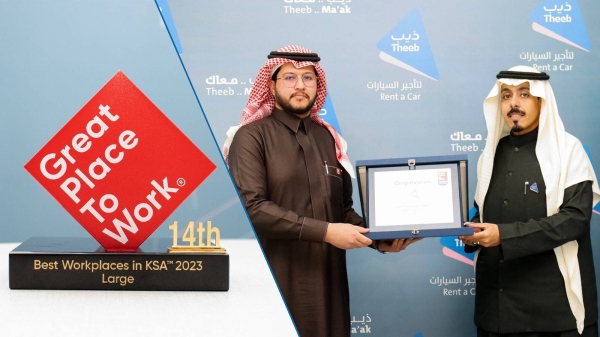 'Theeb Rent A Car' receives Great Place To Work Award
"Theeb Rent a Car" Company won the best work environment award for the year 2023 "Great Place to Work" in the Kingdom of Saudi Arabia.
With this award, the company achieved the fourteenth rank among the largest companies in the Kingdom, as a result of the ideal and stimulating work environment that the company enjoys. And, through such an environment, the company provides an attractive scope of work for its employees besides an ideal experience for the company's customers through its various network of branches spread over several cities and governorates of the Kingdom.

During the ceremony, which was held on this occasion, on February 16, 2023 AD, at the Intercontinental Hotel in Riyadh, Mr. Meshal bin Abdulaziz Al-Ghamdi, the company's Director of the Human Resources and Administrative Affairs Department, received the award in the presence of a large number of figures and business leaders from various sectors.

On his part, Mr. Mishal Al-Ghamdi said: "Granting The "Theeb Rent A Car" the best work environment award for the year 2022/2023 and the fourteenth rank among the largest companies in the kingdom, is considered as a culmination of the company's efforts in its field of work, being distinctive and pioneering in the corporate sector at the level of the Kingdom, and its superiority in the field of the business environment, in addition to the company's determination to maintain such prestigious position, which has qualified it to obtain this certificate that increases the safety and job stability ratios besides its reflection on the customer satisfaction."

He pointed out that receiving the award would motivate Theeb Rent a Car's employees to raise their level of performance and increase the operating efficiency in all branches of the company in addition to strengthening the company's leading position in the field of car rental within the kingdom. The award also represents an extension of the company's reception of many local and international awards and certificates, including obtaining ISO certificates in various fields.: ISO9001:2015 - Quality Management Systems, the ISO45001:2018 - Occupational Health and Safety Management, and ISO14001:2015 - Environmental Management Systems.

The "Theeb Rent A Car" Company is one of the leading companies in the Kingdom and the region in the car rental sector. Its experience and leadership enabled it to obtain a wide range of certificates, both locally and abroad. The company includes a wide range of vehicle rental solutions and services through long and short-term rental. It has a wide base of customers from various categories, sectors, and individuals. The company has accumulated experience that extends for more than 30 years, where the company started its work in the field of car rental in 1991 AD, and the current fleet of the company has reached more than 25,000 vehicles.