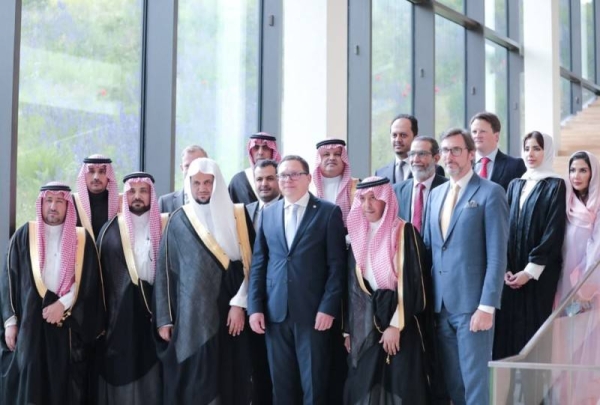 Sheikh Al-Muajab meets with head of Eurojust Agency in The Hague
Attorney General Sheikh Saud Al-Muajab has met with the President of Eurojust Ladislav Hamran at the headquarters of the European Union Agency in The Hague.
During the meeting, the two sides discussed several issues of common interest, including ways of strengthening and developing relations in all fields, exchanging information, in addition to encouraging mutual understanding between the Public Prosecution and the Agency.

Al-Muajab stressed the judicial integration to face challenges in combating serious and cross-border crimes that have become a concern for countries and international organizations.

He highlighted the Kingdom's effective partnerships in activating the principles of international cooperation and achieving prompt criminal justice, and praised the pivotal role played by Eurojust in curbing these crimes and strengthening justice strategies to facilitate tracking their perpetrators and tracking their evidence by coordinating of national authorities' efforts.

The Attorney General said that the agency's desire to expand the framework of collective action in combating these criminal patterns converges with international trends, especially for systems that adopt the same goals, and Saudi Arabia has effective partnerships in activating the principles of international cooperation in achieving effective criminal justice, especially in the context of combating crimes.

"We are working in the Kingdom to strengthen these partnerships by putting in place special measures within the Public Prosecution, which enjoys unlimited support from Custodian of the Two Holy Mosques and the Crown Prince, may God preserve them," he said.

He expressed appreciation to the agency for its remarkable effort in establishing prompt justice, strengthening international cooperation, and combating cross-border crimes, asking God Almighty to crown these efforts with success and distinction.

For his part, Hamran praised Saudi Arabia's active role represented by the Public Prosecution in eliminating transnational organized crimes, adding that the interaction between the agency and the prosecution is developing significantly.

The Attorney General also met with the EU Counter-Terrorism Coordinator Ilkka Salmi and discussed with him various issues related to the fight against international terrorism.

The Attorney General stressed the seriousness of terrorism cases, especially cross-border ones, and that the Kingdom is among the leading countries that contributed to eliminating terrorism by drying up its sources, prosecuting criminals, and taking regular strict measures against them, as well as raising the efficiency of public awareness against terrorist ideologies and terrorist organizations.

The EU Counter-Terrorism Coordinator hailed the pivotal role of Saudi Arabia and the strict government efforts in eliminating terrorism and tracking terrorist crimes.