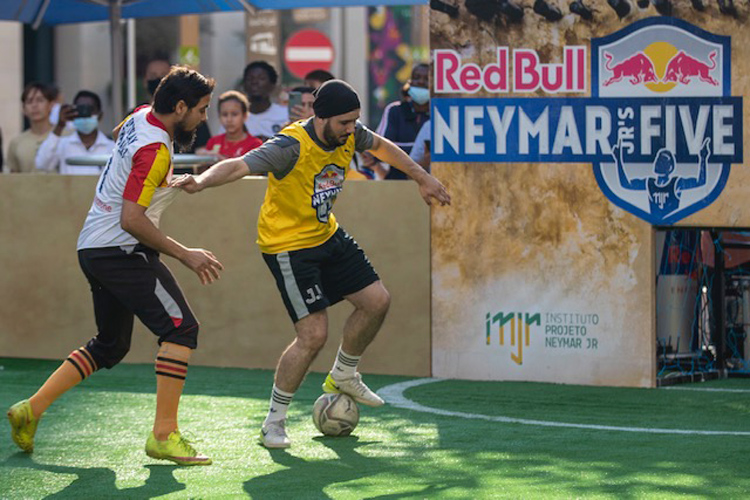 Saudi Arabia to host Red Bull Neymar Jr's Five for first time
Saudi Arabia is set to host Red Bull Neymar Jr's Five for the first time, with one of the world's largest five-a-side football tournaments taking place in Riyadh and Jeddah next month.
Hundreds of players will compete in a series of qualifiers in the two cities, with the national final in Jeddah deciding which team heads to the Red Bull Neymar Jr's Five world finals in Qatar, where competitors will have the chance to face off against the Brazilian star.

The tournament returns this year with new features that will make it the biggest edition yet, while the world finals will be held on Arab soil and outside its birthplace of Brazil for the first time.

The competition's distinct rules distinguish it from normal five-a-side football. There are no goalkeepers, and every time a team scores a goal, the opposing side loses a player. Matches last for 10 minutes or until one team loses all its players. The tournament is open to players aged between 16 and 35.

The qualifiers will take place in April in the male and female categories, with more than 800 players expected to participate and qualifying teams moving on to the national final.

A total of 64 men's teams will face off in Riyadh at the Koora Park fields on April 7-8, and a week later will move to Jeddah, where matches will be played over three days at the Koora Arena fields from April 14-16. The Jeddah competition will also include 16 female teams.

Sixteen teams from the two qualifying rounds will go on to the national finals, also held in Jeddah, on April 19. The winners of the Saudi final will carry the country's flag at the world finals in Doha.

Under the banner of "Outplay Them All," the Saudi champions will face off against the winners of more than 40 countries, including Neymar's Brazil and France, where he currently plays his club football at Paris Saint-Germain.

In addition to winners' prizes, the victorious team in both male and female categories will be able to play against the Brazilian star and his team of choice.

Teams that qualified for the 2021 final, which was canceled due to global health restrictions, will also take part in the Doha event. They will be joined by new winners from local qualifiers around the world, making this tournament the largest ever.

In Saudi Arabia, Red Bull's tournament partners are the Ministry of Sport, Vision 2030, Red Bull Mobile, Sports For All, Blink Experience, Instituto Projeto Neymar Jr and Quality of Life Program.