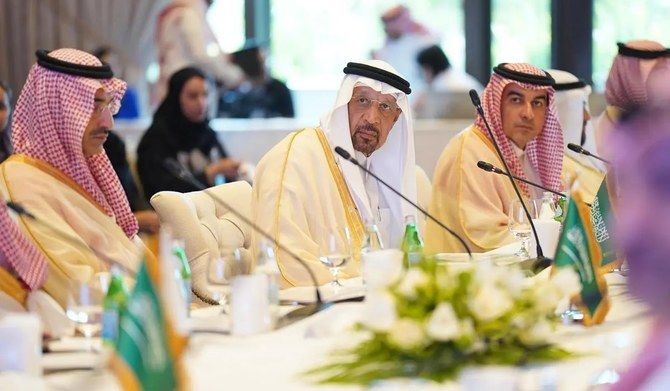 Saudi Arabia, Bahrain review efforts to boost bilateral ties, tourism integration
Bilateral trade between Saudi Arabia and Bahrain is set to receive a major boost as senior ministers from both countries met in Manama on Sunday to strengthen joint cooperation in the fields of investment, environment and infrastructure.
Headed by Saudi Investment Minister Khalid Al-Falih, the Saudi delegation met with Bahrain's Minister of Transportation and Telecommunications Mohammed bin Thamer Al-Kaabi and other officials for the third Saudi-Bahraini Coordination Committee meeting that discussed as many as 13 initiatives of mutual interest.

During the meeting, Saudi Investment Minister Al-Falih talked about the importance of Bahrain and Saudi projects in the private sector as an engine to spur growth, Bahrain News Agency reported.

Both the Gulf states have been working toward increasing their economic ties, with Saudi Arabia announcing its plans to target investment of up to $5 billion in development projects in Bahrain, following Crown Prince Mohammed bin Salman's visit in December 2021.

He noted that the initiative aims to invest in key economic sectors in both countries, with joint platforms will also set up in Bahrain to showcase feasible investment opportunities.

"A special portal for Bahraini investors with priority will also be launched," Al-Falih was quoted as saying, noting that tourism integration between the two countries will also be revitalized.

On his part, Al-Kaabi stressed his country's keenness on creating investment opportunities that contributed to developing vital sectors and spurring growth.

The ministers also spoke about two memorandums of understanding between both countries that are in the pipeline.

The first MoU will be signed between the National Center for Waste Management in Saudi Arabia and the Supreme Council for the Environment in Bahrain to increase cooperation in the field of sustainable waste management.

The second MoU will be inked between the Bahrain Agricultural Development Co. and the concerned authority in Saudi Arabia in the field of food security.

Al-Falih also talked about the establishment of the Saudi-Bahraini Urban Planning Council as well as an annual Saudi-Bahraini forum.

"The (construction of the) parallel bridge was discussed and the mechanism for accelerating the pace of work to complete this project, which also includes a railway link between the two kingdoms," the minister disclosed.

Trade exchanges between the two neighboring countries reached $3.9 billion in 2022, revealed, noted Sameer bin Abdulla Nass, head of the Bahrain-Saudi Business Council.

He added that Bahrain's exports also topped $3 billion, making Saudi Arabia the biggest partner for Bahrain's exports and the 7th for imports.