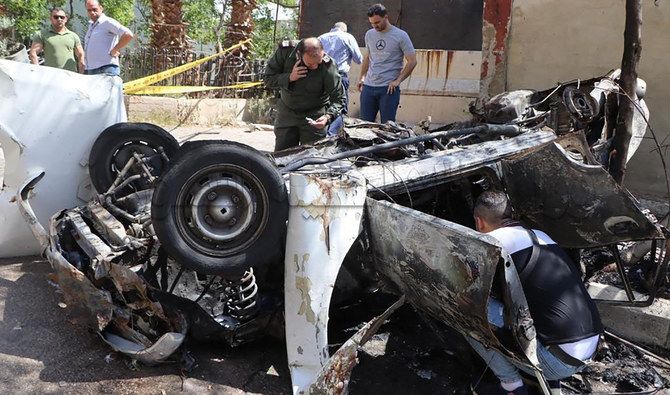 Policeman killed in Damascus car bombing
A Syrian policeman was killed and four others wounded on Wednesday in a car bomb attack on a Damascus police station that was claimed by Daesh.
The Syrian Interior Ministry said a vehicle exploded at the Barzeh police station in the north of the capital, killing a lieutenant colonel and wounding four others.

"Investigations are ongoing to discover the circumstances of the incident," it added in a statement, posting images of a mangled, burnt-out vehicle.

Daesh later claimed responsibility for the attack, saying its members had "managed to plant and detonate an explosive device on a vehicle inside a police station," in a statement on its Telegram channels.

It was a rare jihadist attack in Damascus, which has been largely spared such violence in recent years, especially since the government retook the last rebel bastion near the capital in 2018.

But security incidents, including blasts targeting military or civilian vehicles, occur intermittently in Damascus.

Sometimes they are part of personal disputes or score-settling in the country, where the security situation is tenuous more than 12 years after its civil war erupted, according to the Observatory.

In October 2022, a bomb attack on a Syrian army bus near Damascus killed at least 24 soldiers.

The Syrian Observatory for Human Rights, a Britain-based war monitor, had attributed that attack to Daesh cells.

Last month, state media said an unclaimed car bombing rocked another Damascus district, with the Interior Ministry saying two people were slightly injured.

Daesh's "caliphate" that once straddled swathes of Syria and Iraq shrank to its death in eastern Syria in early 2019.

The conflict in Syria has killed more than 500,000 people, displaced millions and battered the country's infrastructure and industry.

While the front lines have mostly quietened in recent years, large parts of the country's north remain outside government control.