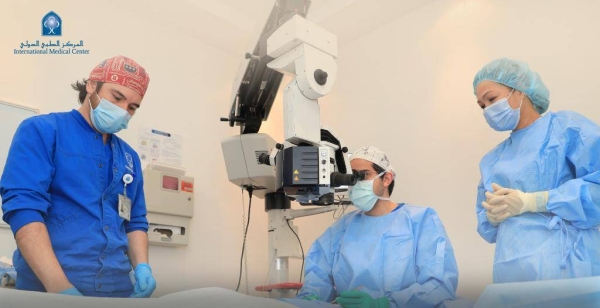 Ophthalmology team at the International Medical Center continues its achievements
A successful complex operation to transplant a corneal lining for an elderly patient who almost lost her vision.
A 77-year-old patient underwent cataract surgery at a hospital, but one of the complications of the surgery was the corneal lining in the front of the eye being affected. As a result, she had to go to another hospital where she underwent a corneal lining transplant operation, but this operation was also unsuccessful.

When the patient arrived at the International Medical Center, she was in severe pain, and the vision in one of her eyes had weakened to the point where she almost lost her sight. When the doctors examined her, they confirmed the need for a corneal lining transplant operation.

In addition to the patient's advanced age, there was another challenge for the doctors, which was that the patient would undergo a third operation on the same eye within only 3 months.

The patient underwent a corneal lining transplant operation "Endothelial keratoplasty" using the latest corneal transplant techniques, which are only available in a limited number of major hospitals. The operation took about an hour and a half.

After the operation, the patient's condition improved, and the severe pain she was experiencing was controlled. Her vision gradually improved until she fully recovered, thanks to God.

The surgical team that performed the operation consisted of Dr. Mahmood Showail, a consultant in ophthalmology, corneal and cataract surgery, and refractive surgery, and Dr. Abdulrahman Khalil, the anesthetist, in addition to the nursing team.