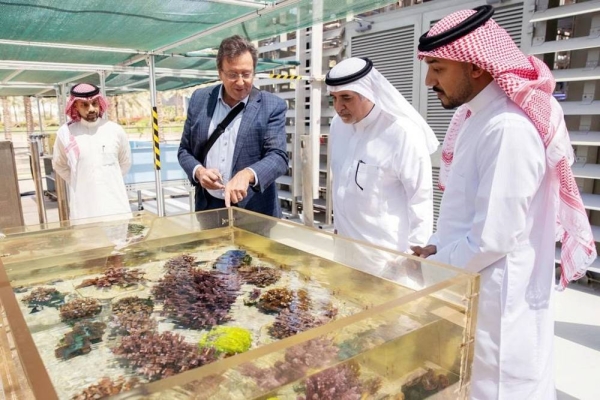 KAUST receives Amazon donation to support research project on coral reef conservation
The King Abdullah University for Science and Technology (KAUST) announced on Sunday that it has received a research donation from Amazon.sa to support a research project on coral reef conservation in the Kingdom of Saudi Arabia.
The project will provide new tools for a global environmental initiative called the Global Coral Reef R&D Accelerator Platform (cordap.org). Launched by G20 members during the Saudi Presidency in 2020, the global initiative is being led by the Ministry of Environment, Water, and Agriculture (MEWA), with KAUST as the central hub.

The research project will study the resilience of Saudi Arabia's Red Sea corals to address the threats that coral reefs face on a global scale. The research project aligns with Vision 2030, the Kingdom's framework for economic diversity, environment sustainability, and public service development.

KAUST is a major global hub of efforts to conserve and restore coral reefs globally, thanks to KAUST's cutting-edge infrastructure and extensive expertise in coral reefs, as well as its central role in supporting CORDAP. The university also has significant experience in managing competitive funding processes globally and partnerships with renowned organizations such as Amazon.

Prof. Carlos M. Duarte, distinguished professor at KAUST leading the research, said: "We thank Amazon for their contribution that will help develop new tools to better understand the drivers of corals loss with climate change. We hope that Amazon's contribution will inspire others in the private sector to help achieve long-term sustainability through environmental responsibility and initiative."

Amazon's donation for the project comes as part of the company's efforts to support nature-based investment in communities where it operates.

Commenting on Amazon's support of the project, Dr. Hatem Samman, head of public policy for Amazon Saudi Arabia, said: "Amazon is committed to improving the environmental conditions and preserving biodiversity in communities where we operate.

"By supporting the KAUST coral reef conservation project and contributing to the Global Coral Reef R&D Accelerator Platform initiative, launched under the Saudi G20 Presidency and led by the Saudi Ministry of Environment, Water, and Agriculture, we are also supporting Saudi Arabia's environmental efforts as well as that of the world at large in combatting climate change."

The project will study various aspects of coral reef conservation, including causes of coral bleaching associated with high temperatures, specifically the role of oxygen supply. The research will also include an experimental assessment of the capacity of symbiotic algae to adapt to increasing temperature. A communication campaign targeting Saudi audiences to raise awareness on the importance of coral reefs, the threats they face, and what the public can do to save coral reefs is also part of the project.

"Applications of new advances in genomics to assess biodiversity and responses of coral reefs to changing temperatures will go a long way into informing conservation strategies in the Red Sea and elsewhere," said Dr. Larissa Frühe, co-lead of the project at KAUST.

Known for their resilience, Saudi Arabia's coral reefs in the Red Sea provide the ideal environment for scientific research on tackling and reversing the threats coral reefs face on a global scale. Coral reef conservation and research are at the center of the Kingdom's sustainability efforts.