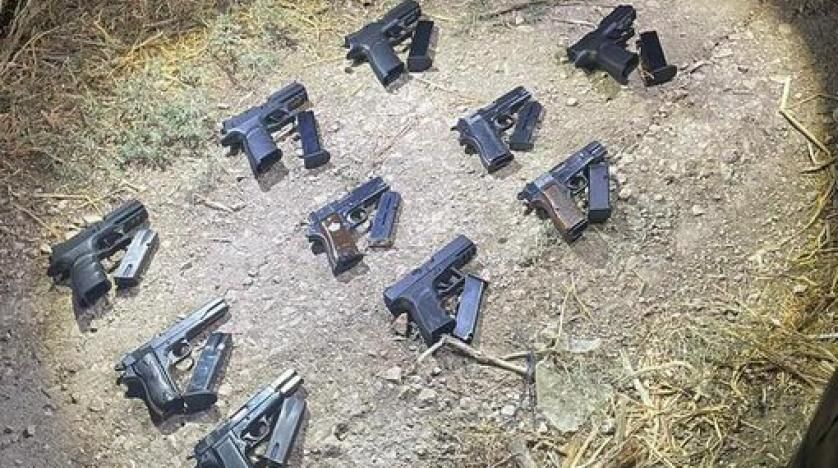 Israel Seizes 300 Pieces of Weapons at Israeli-Arab Border
The Israeli military announced on Sunday that nearly 300 pieces of weapons and 2 tons of drugs have been confiscated at the Israeli-Arab border.
An Israeli army spokesperson said that different armed organizations are working closely with arms and drug dealers in the smuggling operations.

This cooperation led in 2022 to an increase in the number of attempts to smuggle drugs and weapons into Israeli territory, but it also led to more monitoring and an increase in the number of thwarted smuggling operations along the borders, according to the spokesperson.

In 2020 and 2021 combined, there were a total of 21 thwarted smuggling attempts, resulting in approximately the same number of weapons being seized, according to the Israeli army.

In 2022, the Israeli military thwarted 35 smuggling operations, including 18 attempts to smuggle weapons across the Jordanian border, with approximately 300 weapons being seized.

Earlier this year, the military and police stepped up efforts to halt smuggling attempts along the Jordanian and Egyptian borders.

On Sunday, the Israeli army said it had beefed up defenses on its borders, as well as increased its surveillance efforts, and improved its means of transportation, in order to better foil smuggling attempts.

Moreover, the army, police and Shin Bet security agency have established joint operation rooms enabling them to produce accurate intelligence in real-time and formulate a united and joint operative response to the challenges and smuggling attempts.

Brigadier General Meir Biderman, head of the Jordan Valley Brigade, said the brigade's forces, including the fighters of the Lions of the Jordan Valley Battalion, the Lioness of the Valley battalion, and the Nitzan-636 battalion are operating day and night to protect the eastern borders of Israel.

He said the brigade's work relies on a deep partnership among security services including the police, the border guards, and the public security agency, which increases the effectiveness of the work.

For his part, Colonel Ido Saad, head of the Faran Brigade along the Egyptian border said that his brigade has been working constantly to prevent criminal activity on the western border of the state of Israel.