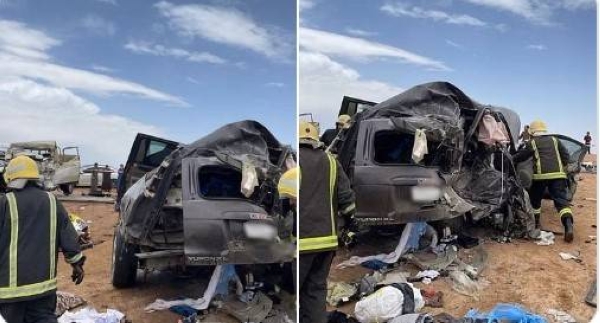 6 siblings die in a tragic accident on Taif-Al-Baha Road
A family had a tragic car accident at the road linking Taif Governorate with Al-Baha regions, which led to the death of 6 siblings and the transfer of their parents and 3 other siblings to intensive care due to their serious condition.
The accident also resulted in the death of a driver, in his mid-sixties, who was driving the second car that was involved in the collision, while one 4-year-old girl survived and got out of the accident without injuries.

According to Sabq, Mohammed Salem Al-Ghamdi said that during the return of his brother Ahmed's family to Al-Baha from Madinah, the horrific accident occurred.

The 6 siblings who died in the accident are Reema, Salem, Mohammed, Saud, Yahya and Hamdan, he said, noting that the eldest of them was 17 years old, while the youngest was 2-years and a half.

He stated that the parents and two of the daughters, Renad and Munirah, and one son, Sultan, were transferred to the intensive care at the King Faisal Specialist Hospital, and King Abdulaziz Specialist Hospital, and Prince Sultan Hospital in Taif.

Al-Ghamdi said that the parents were released from intensive care, while the funeral prayer of the 6 children was offered after the Asr prayer, and then buried in Taif Governorate.