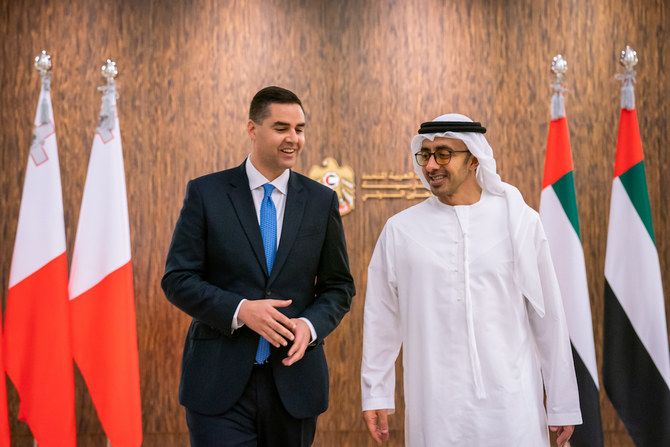 UAE, Malta discuss boosting bilateral ties
The governments of the UAE and Malta have completed a series of talks to promote bilateral cooperation and the exchange of knowledge in a range of fields.
The meetings were launched in February as part of the World Government Summit 2023, Emirates News Agency reported on Wednesday.

During an official visit to Malta, the Emirati delegation met with Keith Azobardi Tanti, Maltese minister for youth, research and innovation; Ian Burg, minister of foreign affairs, European affairs and trade; Tony Sultana, principal permanent secretary in the prime minister's office; and other senior government officials.

Bilateral cooperation between the two countries focuses on areas connected to research and innovation in government operations, such as digital technology, health and wellbeing, sustainability, smart manufacturing, space and aviation.

Burg said that the talks will help the two countries maintain diplomatic and trade relations.

Tanti added that the visit provided a foundation for a stronger bilateral partnership.

"This is a great step in joining forces and seeking collaboration," he said. "Together we can help each other in our strong points to further expand our potential."

Sultana said: "This is testimony that the work we are doing, in particular with the internalization with other countries, is bearing fruit. Our great results in the aviation, maritime, gaming and advanced digital sector have attracted many countries.

"We can share our best practices with the UAE by offering our expertise in these sectors. In recent years, the UAE has made great advances in various sectors, including research and innovation, and it can offer us great training opportunities and help to further grow our industry."

Bilateral cooperation with Malta is in line with the UAE's Government Experience Exchange Programme, launched in 2018 to develop international knowledge-based partnerships.