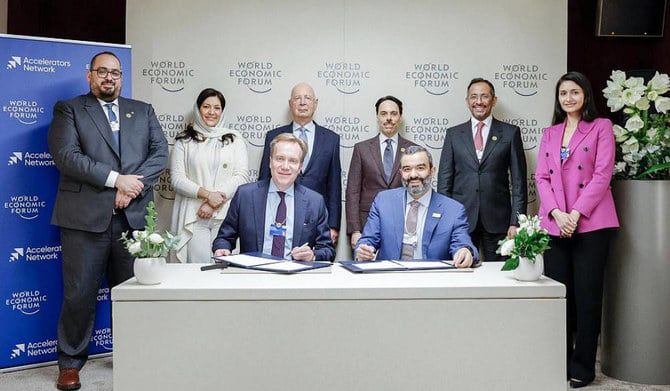 Saudi Arabia, World Economic Forum sign accelerator deal to boost innovation in KSA
Saudi Arabia and the World Economic Forum on Tuesday signed a letter of intent to set up an accelerator program to help boost innovation in the Kingdom.
The signing took place during a meeting between a high-level delegation from the Kingdom and the World Economic Forum's leadership in Davos, Switzerland.

The Saudi delegation included Foreign Minister Prince Faisal bin Farhan, Saudi Ambassador to the US Princess Reema bint Bandar, Minister of Communications and IT Abdullah Al-Swaha, Minister of Industry and Mineral Resources Bandar Al-Khorayef and Minister of Economy and Planning Faisal Al-Ibrahim.

The delegation met with Klaus Schwab, WEF founder and executive chairman, and Borge Brende, WEF president.

During the meeting, they discussed matters of mutual interest. The letter of intent was signed by Al-Swaha, who is also chairman of the board of the King Abdulaziz City for Science and Technology, and Brende.

As part of the agreement, KACST will work alongside the WEF to connect experts and knowledge partners from the public and private sectors to unlock promising markets as part of the Kingdom's economic transformation.

During the meeting, delegates highlighted the Kingdom's role as a pioneering partner of the WEF's Global Collaboration Village, which will leverage the metaverse to serve the global community.

The Kingdom intends to use the virtual village to open opportunities, investment and collaboration between national stakeholders and international entities, a press release said.

The online facility will be used to interact with people, organize events and promote knowledge sharing, it added.

Saudi Aramco, the Kingdom's leading private sector entity, was the first company to build a house in the Global Collaboration Village, the press release said.

The Saudi-WEF meeting also covered other topics such as green investment and the role of women and youth empowerment as a vital enabler in climate action.

The Saudi delegates showcased the promising future of the Kingdom's mining industry, including opportunities arising from the surge in demand for minerals.

Saudi officials stressed the importance of leveraging the Fourth Industrial Revolution and green technologies within the Kingdom.