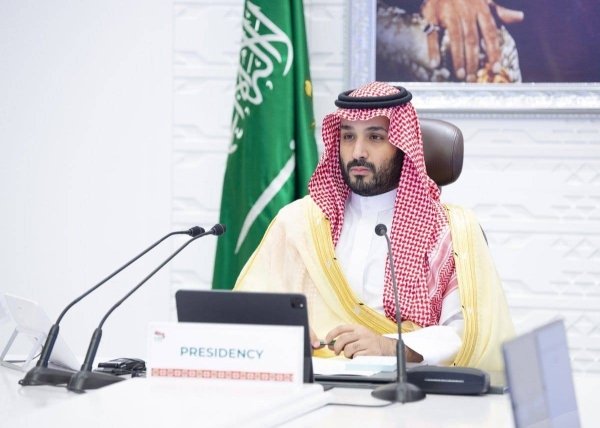 Crown Prince launches National Development Fund's Strategy
Crown Prince Mohammed bin Salman, deputy premier and minister of defense and the Chairman of the National Development Fund (NDF) launched the Fund's strategy during Monday's Board of Directors meeting.
The strategy aims to make the fund a pivotal enabler for the economic and social objectives of the Saudi Vision 2030 and overcome existing development challenges in line with global best practices.

Crown Prince said: "NDF's strategy aspires to create a long-term and sustainable economy through transforming the Fund into a Development Finance Institution (DFI) to contribute to achieving Saudi Vision 2030 objectives; as it seeks, through its development funds and banks, to stimulate a threefold increase in the private sector's development impact on the Kingdom's economy by 2030."

"NDF will contribute to Saudi Arabia's real GDP growth by injecting more than SR570 billion by 2030."

He said NDF targets to achieve more than a threefold increase of non-oil GDP to reach SR605 billion, in addition to generating many job opportunities in the Kingdom by 2030."

The NDF's strategy activates the Kingdom's development objectives by securing liquidity for the development funds and banks, in addition to enabling it to achieve a sustainable business model portfolio, and mobilizing the private sector to enhance its role in development finance and take advantage of the harmonization, commercial and operational integration to serve the beneficiaries of the affiliated entities secure long-term sustainable economic growth.

NDF's strategy aims to inaugurate initiatives concerned with improving performance and transparency, increasing efficiency and effectiveness, along developing the internal capabilities required to meet the aspirations and objectives of NDF for long-term development finance.

Muhammad Al-Tuwaijri, NDF Vice Chairman of the Board said: "It is a step that reflects our firm commitment to transform into an integrated development financing institution, which contributes to the development and diversification of the Saudi economy and enhances its prosperity; to consolidate the Kingdom's position at the global level."

"We intend to achieve these goals by transforming the Kingdom's economy from an economy dependent on government spending to an economy led and integrated by the private sector, in addition to encouraging exports and local industries, achieving financial sustainability, and working as an effective tool to face the fluctuations of economic challenges, and we are confident that the National Development Fund will be one of the main pillars to turn these plans into a tangible reality."

Mr. Stephen Groff, Governor of the NDF, said: "At NDF, we have a huge opportunity to enhance the efficiency of government development funds and banks in terms of identifying and investing in financing opportunities across the Kingdom.

"Our goal is to become a global brand of excellence in development finance through integration, alignment, and facilitation of synergies between partners. These plans are centered around cementing robust and sustainable financial institutions that function according to global best practices."

He added: "As the NDF's strategy gains momentum, we will bear fruit in ensuring high levels of prosperity, improving the quality of life, generating new and sustainable jobs, and positioning the Kingdom as a new hub of foreign investments. Today, we are at the crossroads of big things to come, venturing forward in our quest to make Crown Prince's Vision a reality and lead the world in different areas."

The NDF was established by Royal Decree No. (A/13) on 13/01/1439 AH, upon the Crown Prince's recommendation to set affiliated development funds and banks with robust and sustainable development that functions according to global best practices.

The NDF is mandated to blaze a path for Vision 2030 goals and development agendas to be transformed into reality. The Fund oversees the financing activities carried out by its development funds and banks and aligns its various policies.

The NDF has injected more than SR690 billion through its affiliates since its inception, becoming one of the largest development finance funds in terms of the ratio of assets to GDP in G20 economies, with assets amounting to SR496 billion.