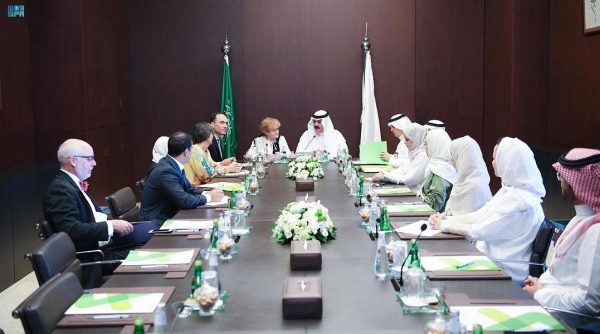 US special envoy reviews Saudi center's experience in promoting dialogue and co-existence
A delegation from the United States, headed by Special Envoy to Monitor and Combat Antisemitism Ambassador Deborah Lipstadt, was briefed on the programs and activities implemented by King Abdulaziz Center for National Dialogue.
The delegation, which was received by Secretary-General of the Center Dr. Abdullah bin Mohammed Al-Fawzan and a number of the Center's leaders on Tuesday, listened to a brief presentation of the Center's efforts in tolerance through its various activities, indicator, programs, and meetings.

The US team was also briefed on the results of the first index of tolerance of its kind in the region, carried out by the Center. The index showed Saudi society is tolerant of different cultures and civilizations.

At the outset of the meeting, Al-Fawzan welcomed the delegation, stressing the importance of activating dialogue with the other to build bridges of understanding with different cultures as part of the efforts made by the Saudi Vision 2030 in the field of supporting tolerance and promoting peaceful coexistence with various peoples based on the principle of moderate Islam.

He added that Saudi society coexists and accepts the other like all societies, as evidenced by the presence of a large number of expatriates working in the Kingdom.

The values of tolerance, coexistence, and unity are not new to Saudi society, Al-Fawzan pointed out.

Moreover, he indicated that since its inception, the Center gave great importance to promoting the values of citizenship among all spectrums of society by making it a mainstay in its dialogues. The Center harnessed its various and varied programs and projects to promote these values, he said.

At the end of the visit, the delegation toured the Center's Interactive Dialogue Exhibition to learn about the Kingdom's efforts to support dialogue between different cultures and civilizations and the local projects it offers to strengthen the social fabric, as well as regional and global projects to build and enhance cultural diversity and human commonalities.