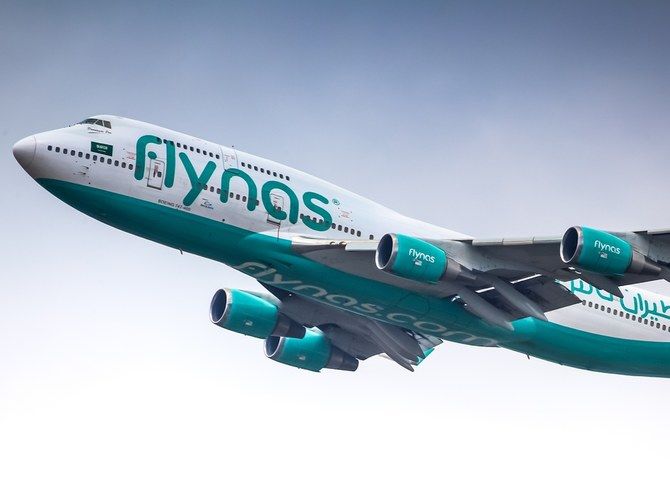 Saudi Arabia's budget airline flynas records 47% rise in Q1 revenue 
Amid strategic expansion plans, Saudi Arabia's low-cost airline flynas reported 47 percent growth in revenue in the first quarter of 2023 as compared to the same period last year, with the number of passengers reaching over 2.4 million.
According to an official statement, the number of flights also increased more than 13 percent in 2023 — to 17,000 from 15,000 in the first quarter of the previous year.

Bander Al-Mohanna, CEO and managing director of flynas, attributed the growth to the strategic expansion plan launched in early 2022 under the slogan "We Link the World to the Kingdom" that allowed the airline to increase its fleet size to 48 aircraft by May 2023 and saw the launch of new international and domestic routes.

"We announced adding 10 new destinations and routes in Asia and Europe during the 2023 summer season, as of next June, bringing the total summer destinations to 20, as we keep expanding our ever-growing international network, notably after the company's board of directors approved increasing our orders for new aircraft to 250 aircraft and our plan to obtain an Air Operator Certificate in two more countries, to double operations and expansion internationally," Al-Mohanna added.

The CEO emphasized flynas' ambition to achieve the targets set by the National Strategy for Civil Aviation, which seeks to increase air connectivity to 250 destinations, reaching 330 million passengers, and double air cargo capacity to 4.5 million tons by 2030.

"We will keep cementing our position as the largest low-cost airline in the Middle East, and one of the top 10 low-cost airlines in the world. We aim to advance in the global rankings to be among the top five companies in our category worldwide and to be the largest owner of modern aircraft in the region," the executive said.