Foreign ministry spokesperson blames author and supporters after stabbing that left him with 'life-changing' injuries
Iran has denied having any role in the attack on Salman Rushdie but claimed the author had only himself to blame for crossing a "red line" over Islam in his writings.

Rushdie's life was reported to be out of danger but he was said to have sustained "life-changing" injuries after being stabbed 10 times when he was speaking at an event on Friday in Chautauqua, New York.

Hadi Matar, the 24-year-old New Jersey man arrested at the scene, was charged with second-degree attempted murder and assault with a weapon.

The US secretary of state, Antony Blinken, issued a statement on Sunday accusing Iran of encouraging violence against Rushdie, an Indian-born dual US and UK citizen. He was formally condemned to death by decree, or fatwa, in 1989 by Iran's then supreme leader, Ruhollah Khomeini, after the publication of his book, The Satanic Verses, deemed to be blasphemous by Iran and other Islamic governments.

"Specifically, Iranian state institutions have incited violence against Rushdie for generations, and state-affiliated media recently gloated about the attempt on his life," Blinken said. "This is despicable."

Vice News cited unnamed European and Middle Eastern intelligence officials as saying that Matar had been in direct contact through social media with members of Iran's Islamic Revolutionary Guard Corps (IRGC). The report, however, added that there was no evidence Iranian officials had orchestrated the attack.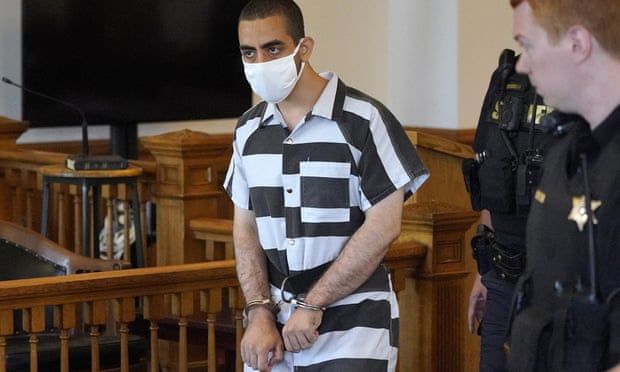 Hadi Matar, 24, arrives at the Chautauqua county courthouse on Saturday.

On Monday, Iran's foreign ministry spokesperson, Nasser Kanaani, said the Tehran government categorically denied any link, declaring: "No one has the right to accuse the Islamic Republic of Iran."

"In this attack, we do not consider anyone other than Salman Rushdie and his supporters worthy of blame and even condemnation," Kanaani said at his weekly press conference in Tehran.

"By insulting the sacred matters of Islam and crossing the red lines of more than 1.5 billion Muslims and all followers of the divine religions, Salman Rushdie has exposed himself to the anger and rage of the people," Kanaani added.

Khomeini's fatwa was never withdrawn, and was upheld by his successor and Iran's current supreme leader, Ali Khamenei. In 2019, Twitter suspended Khamenei's account for a tweet in which he described Khomeini's fatwa against Rushdie as "solid and irrevocable".

"Bravo to this courageous and duty-conscious man who attacked the apostate and depraved Salman Rushdie in New York," Kayhan, a hardline paper whose editor is appointed by Khamenei, said in an editorial. "Let us kiss the hands of the one who tore the neck of the enemy of God with a knife."

A spokesperson for the British prime minister, Boris Johnson, said Iran's stance was "ludicrous".

"Clearly it's ludicrous to suggest that Salman Rushdie was in any way responsible for this abhorrent attack on him," they said.

"This was not just an attack on him, it was an attack on the right to free speech and expression. And the UK government stands both by him and his family but equally we will stand in defence of free speech around the world."

The shadow UK foreign secretary, David Lammy, also condemned the comments, saying they were "truly sickening".

The attack took place as the future of a 2015 nuclear agreement between Iran and major powers hangs in the balance. Iran has said it will give a formal response by the end of Monday to an EU proposal on how to revive the deal, which has steadily disintegrated since Donald Trump withdrew the US in 2018.

"Our answer will be given to the EU tonight at 12 midnight," the foreign minister, Hossein Amir-Abdollahian, said. "There are three issues that, if resolved, we can reach an agreement in the coming days."

US conservatives have called on the Biden administration to withdraw from the negotiations after the attack on Rushdie, and the unveiling of charges last week against an IRGC member alleged to have plotted to assassinate Trump's former national security adviser, John Bolton.

The Biden administration has insisted, however, that the nuclear issue should be treated separately from other points of conflict between the two nations.

Rushdie was stabbed three times in the neck, four times in the stomach, once in the right eye and once in the chest, and had a slash to his right thigh.

"The injuries are severe," his literary agent, Andrew Wylie, said in an email to the Guardian. "But his condition is headed in the right direction."

In a statement on behalf of the family, the writer's son, Zafar Rushdie, said: "We are extremely relieved that yesterday he was taken off the ventilator and additional oxygen and he was able to say a few words.

"Though his life-changing injuries are severe, his usual feisty and defiant sense of humour remains intact."