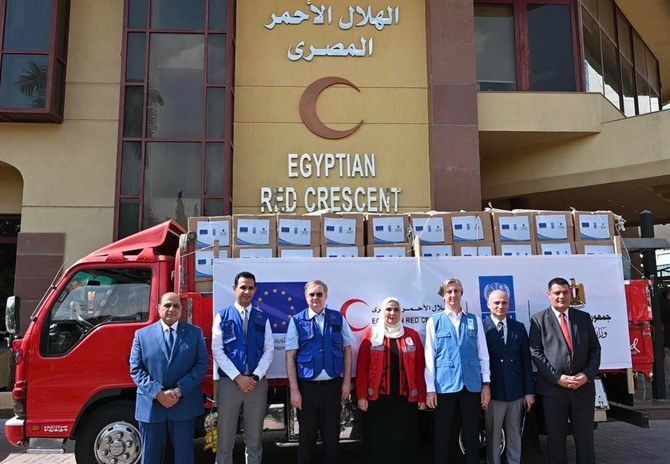 Egyptian Red Crescent begins transporting 27 tons of relief supplies to Sudanese
The Egyptian Red Crescent has begun transporting 27 tons of relief supplies to Sudan, in cooperation with the EU and the UN Development Programme.
The Red Crescent held a press conference alongside Egypt's minister of social solidarity, Nivine El-Kabbag, the head of the EU delegation to Egypt, Christian Berger, and the UNDP resident representative in Egypt, Alessandro Fracassetti, to announce the relief supplies provided by the UNDP and funded by the EU.

El-Kabbag said that "presenting the grant to support the efforts of the Egyptian Red Crescent regarding the Sudanese crisis reflects the appreciation and confidence that the international community has placed in the Egyptian Red Crescent."

She explained the Ministry of Social Solidarity works through 26 relief centers nationwide and tens of thousands of volunteers, in addition to its interventions provided in partnership with civil society organizations.

She added that Egypt hosts nearly 8 million refugees from different countries.

Berger said the EU and its member states are committed to supporting Egypt and Sudan.

"We are working with our partners to assist Egypt in its efforts to ensure the basic social and healthcare needs of Sudanese refugees," he said, adding that "the EU has provided €200,000 ($216,000) to the Egyptian Red Crescent to assist people coming from Sudan to Egypt."

Fracassetti said: "Today we stand together to support the Egyptian government in providing basic healthcare supplies to Sudanese refugees amid these difficult circumstances.

"We are committed to strengthening social cohesion, reducing poverty and unemployment, and strengthening social services for the Egyptian communities hosting the Sudanese.

"The numbers of those fleeing to Egypt — the largest host — are rapidly increasing, with UNHCR partners estimating more than 5,000 arrivals a day," he added.

About 110,000 Sudanese have entered Egypt since fighting broke out between the Sudanese Armed Forces and the Rapid Support Forces in April.