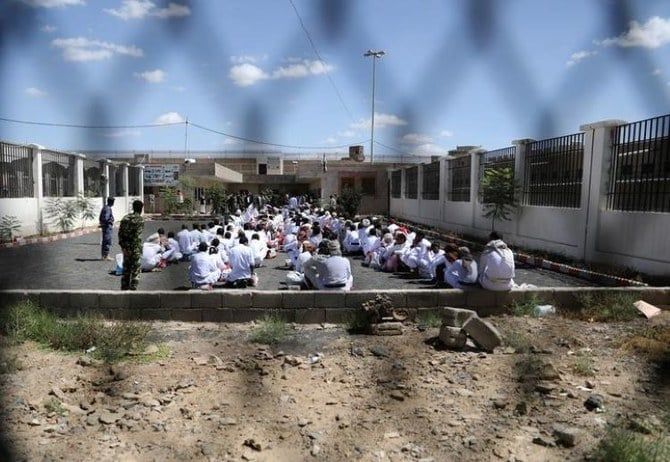 Yemeni female prisoner attempts suicide to escape Houthi mistreatment
A Yemeni woman has attempted suicide inside a Houthi-held jail in Sanaa after being exposed to "severe" physical and psychological maltreatment by her captors, a Yemeni human rights activist told Arab News on Sunday, an incident that has once again brought attention to the inhumane conditions in Houthi detention facilities.
Amat Al-Salam Al-Hajj, chairperson of the Abductees' Mothers Association, an umbrella group representing thousands of female family members of civilian war captives, said that a female prisoner tried to kill herself last week by cutting the arteries of her hands in order to escape abusive and torturous treatment from Houthi captors inside the Central Prison in Sanaa.

Other female prisoners saved their bleeding roommate by transporting her to a medical facility.

Al-Hajj said that after families of the detainees visited the Central Prison in Sanaa, the news of the woman's suicide attempt became widely known.

"There is much violence inside Houthi prisons, which has prompted some prisoners to attempt suicide more than once," she said, adding that her organization has documented similar suicide attempts by inmates due to harsh treatment by Houthi policewomen known as Zaynabiat, primarily from a notorious female Houthi captor known as Um Al-Karar.

Al-Hajj said that Entesar Al-Hammadi, a Yemeni model and actress whom the Houthis abducted from a Sanaa street early last year, also tried to commit suicide as a result of the mistreatment she endured at the hands of Um Al-Karar and other female Houthi kidnappers.

Since the Houthis took over areas of Yemen with force in late 2014, hundreds of civilians have been kidnapped, forcibly disappeared and mercilessly tortured by the militia.

Meanwhile, Reporters Without Borders have urged the Houthis to promptly free a young Yemeni journalist named Younis Abdel Salam, who was kidnapped by the militia in Sanaa in 2021, stressing that his health has worsened and that he is in need of emergency medical attention.

"His arbitrary detention for more than a year has impacted his mental health and well-being. He needs urgent medical attention and, most importantly, he needs to be freed. We urgently call on the Houthis to release him," Jonathan Dagher, head of RSF's Middle East desk.

The journalist's family told the international media watchdog that the 28-year-old has dropped nearly half of his body weight, his mental state has gotten worse, and the Houthis have denied him access to his medicine and even forbidden visitors from bringing him books.

"The last time I saw Younis, he was mentally devastated," his brother, Sultan, told RSF.