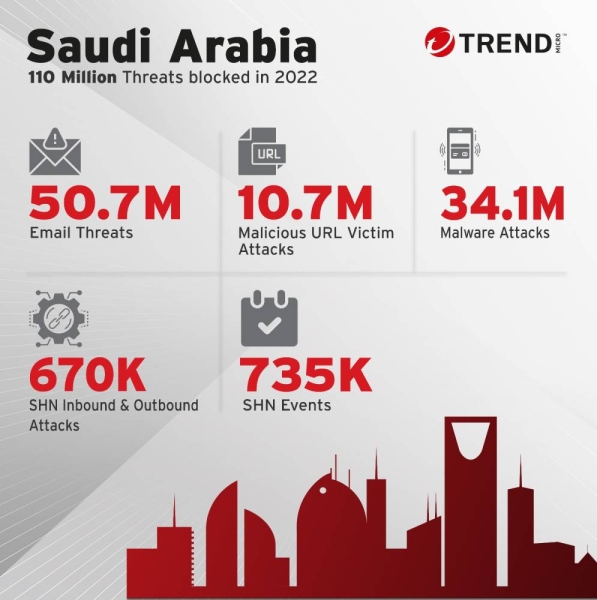 Trend Micro blocked over 110 million threats in KSA
Trend Micro Incorporated (TYO: 4704; TSE: 4704), a global leader in cybersecurity, today announced the findings of its annual cybersecurity report, which revealed a significant 55% increase in global threat detections and a massive 242% surge in blocked malicious files in 2022.
Titled "Rethinking Tactics", the report highlights concerning trends that have significant implications for the future of digital security. It emphasized that threat actors indiscriminately targeted both consumers and organizations across all sectors, making 2022 a challenging year for cybersecurity professionals.

In the Kingdom of Saudi Arabia, Trend Micro solutions detected and blocked over 50 million (50,771,605) email threats, preventing over 10 million (10,779,001) malicious URL victim attacks, and 28,554 URL hosts. In addition, over 34 million (34,183,412) malware attacks were identified and stopped.

"The threat landscape is constantly evolving, and it's crucial for organisations to stay ahead of the bad actors by reinforcing their digital infrastructure," Rasheed Al Odah, Managing Director KSA, South UAE, Bahrain and Levant, and MEA Service Director at Trend Micro said, "To effectively protect their operations, organizations must leverage the latest threat intelligence and gain full visibility of their attack surface. Multi-layered cybersecurity is the need of the hour, as it can provide the necessary protection to mitigate risks and safeguard against threats of the future. We look forward to playing our role in empowering organisations in the Kingdom to protect their digital transformation journeys and realize the Saudi Vision 2030."

The annual report highlighted an increase in failed patches adding extra time and money to corporate remediation efforts and exposing organizations to unnecessary cyber risks. Also, Webshells were the top-detected malware of the year, surging 103% on 2021 figures, while ransomware groups rebranded and diversified, with LockBit and BlackCat being the top ransomware families of 2022.

To address the current attack surface, Trend Micro advises organizations to take a proactive approach by conducting thorough assessments and securing their digital infrastructure. As part of its commitment to enhancing cybersecurity in the Kingdom, the company recently established its Middle East and Africa headquarters in Riyadh, Saudi Arabia, which ranked second in the Global Cybersecurity Index. By doing so, Trend Micro aims to support the country's efforts and stay at the forefront of the fight against cyber threats.