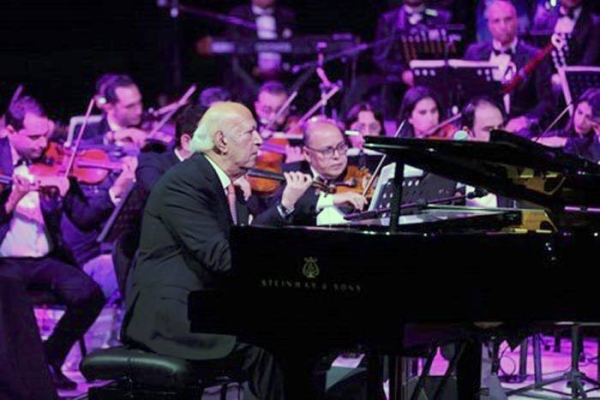 Maestro Omar Khairat to return to AlUla
Omar Khairat, the popular Egyptian maestro, composer, and pianist, and the pride of the Egyptian and Arabic music, will be returning to AlUla for the third time to enchant his fans at Maraya's stage on Jan.14, 2022, during Winter at Tantora, the first re-imagined culture and arts festival in Saudi Arabia.
Due to the high demand from Khairat fans to witness his live performance in AlUla, all tickets were sold out for the concert, however, and to satisfy all his music lovers, the memorable concert will broadcast live from Maraya on Friday Jan. 15 at MBC 1.

Also there is an opportunity for everyone from around the world to watch the concert live and free on YouTube (@mbc1) and AlUla Moments YouTube pages (@AlUlaMoments).

Omar Khairat — considered one of the most successful and influential Egyptian composers of all time — will join several high-profile musicians taking part in AlUla Moments festival.

In a career that spans over five decades, he has won over 20 awards for his various works, and his musical talent has influenced many different genres. Khairat is widely known for his film scores, which over the years have been praised by the public and critics alike.

One of his best-known film scores is the musical composition for the 1979's movie "The Night of Fatima's Arrest", which became a major hit and is still popular today.Since then, he has had a hand in the musical compositions of many other movies including "Om Ahmed's Case", "The Sixth Day" and "Executing the Dead".

He has also composed for television, theater, and Egyptian ballets, adding his signature style that bridges both Egyptian and Western music. This is a style that blends many influences such as Egyptian and African traditional music, jazz, pop, and blues.

Music fans will also be able to listen to the world's most celebrated tenor Andrea Bocelli, a week after Khairat's concert. also making an appearance at AlUla Moments concert series is Lebanese soprano and actor Magida El Roumi and popular Saudi experimental artist and composer Abdulrahman Mohammed.

The musical concerts will be performed at Maraya, the eye-catching unique art structure, famous for being the largest mirrored building in the world, with 9740 mirrored panels.

Winter at Tantora will run from Dec. 21 to Feb. 12. It is the Kingdom's first-ever music and culture festival that has drawn both international and local visitors. During Winter at Tantora, visitors will be able to enjoy unique sporting equestrian events, culture, heritage, and wellness events in a region steeped in history.