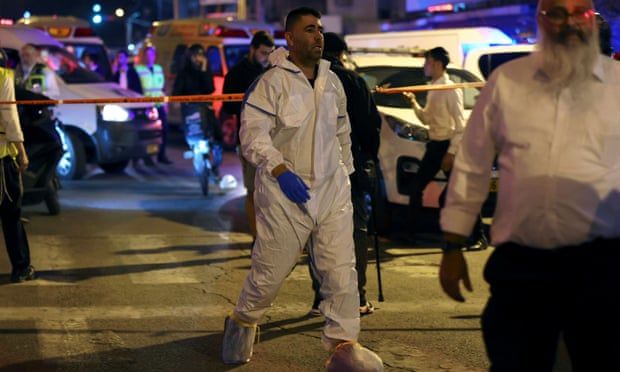 Israel: at least five dead in Tel Aviv shooting
Reports say suspected Arab gunman killed at least four people in Bnei Brak, east of Tel Aviv, before he was fatally shot
Israeli paramedics have said at least five people were killed in a shooting attack in a Tel Aviv suburb, the third such incident in less than a week.

Amateur video broadcast on Israeli television stations showed a man dressed in black and pointing an assault rifle walking down a street in Bnei Brak, a Jewish ultra-Orthodox city east of Israel's commercial capital.

The gunman was later identified as a 26-year-old resident of Ya'bad, near Jenin in the northern West Bank. He is believed to have been working at a building site in Bnei Brak and had previously served a short sentence in an Israeli prison for a security offence.

The attack caps one of the bloodiest weeks in recent years in Israel, and has stirred fears that Islamic State is attempting to wreak a campaign of violence ahead of the Muslim holy month of Ramadan, which begins next weekend.

Two earlier attacks in Hadera and Beersheva are believed to have been carried out by the terror group's sympathisers. Tuesday's attack was not immediately linked to any organisation.

Witnesses said the Bnei Brak gunman began shooting at apartment balconies and then at people on the street and in a car before he was fatally shot. Video footage filmed from nearby shows a black-clad slim man walking into a street with an assault rifle after a bicycle rider made a lucky escape.

The Magen David Adom ambulance service said the gunman killed at least five people. "The terrorist was liquidated," spokesperson Zaki Heller said. He was reportedly shot dead by a police officer.

The incident followed the conclusion of a summit between Arab foreign ministers from Morocco, Egypt, the UAE and Bahrain, as well as the US secretary of state, Antony Blinken, hosted by Israel in the Negev desert. The gathering had raised the ire of Hezbollah in Lebanon, which had called it "treacherous", and had been staunchly opposed by Islamic factions in Gaza.

Tensions have also increased in the West Bank after several deadly clashes between residents and border police. Israeli officials had warned of deteriorating conditions across the West Bank. The annual commemoration of Land Day, marking the deaths of six Israeli Arabs who were killed in 1976 protesting against the planned appropriation of land, is due to be held on Wednesday.

Last week's attack in Beersheba, in which four people were killed in a stabbing and car-ramming rampage, was carried out by an Arab citizen of Israel whom authorities said was an Islamic State sympathiser.

On Sunday, as the Arab summit convened in southern Israel, an Arab assailant, a resident of a town in the north of the country, shot and killed two police officers in Hadera, a city about 30 miles north of Tel Aviv. Other officers shot and killed him.

Islamic State claimed responsibility for both attacks. The terror group is not known to have a significant presence inside the country. However, the presence of sympathisers who drew inspiration from the group's leaders had long been a concern.