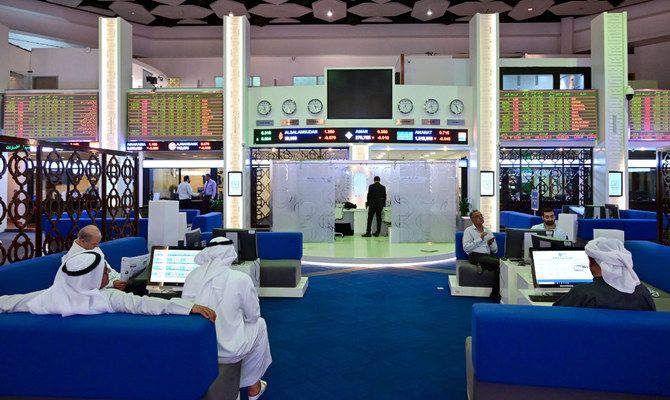 Gulf bourses shrug off crude price decline to close higher
Most Gulf stock markets closed higher on Monday, shrugging off a decline in oil prices, with Dubai leading the gains after the biggest-ever intraday increase in Emaar Development, while the Egyptian index extended losses. Saudi Arabia's benchmark index ended 0.4 percent higher, extending its rally to a fifth session. The index was lifted by gains in health care and banking stocks, with Dr. Sulaiman Al-Habib Medical Services increasing 1.7 percent and Riyad Bank climbing 2.5 percent.
The total trading turnover of the benchmark index was SR4.2 billion ($1.1 billion). Thimar and Etihad Atheeb were the top gainers. On the other hand, Aramco shares declined less than 1 percent to SR31.95.

The parallel market Nomu lost 60.08 points to close at 18,899.29 points, with a valuation of SR19.4 million.

Oil prices, a major driver for Gulf economies, fell on Monday. The demand concern could impact oil prices after China set lower-than-expected growth targets, said Farah Mourad, senior market analyst at XTB MENA.

"The Federal Reserve and the European Central Bank are expected to adopt more hawkish monetary policies."

Dubai's main share index climbed 1.1 percent, boosted by a 14.9 percent surge in Emaar Development, its biggest intraday gain ever and the surge added 2.9 billion dirhams ($789.67 million) to the company's market value.

The real estate developer on Monday announced a cash dividend of 52 fils per share for the fiscal year 2022. The road tolls operator Salik was also up 4.7 percent.

Abu Dhabi's share index rose 0.9 percent, its fifth positive day in a row, lifted by a 1.4 percent hike in UAE's top lender First Abu Dhabi Bank. Conglomerate International Holding Co. gained 0.8 percent as it intends to invest in Presight AI Holding's initial public offering. IHC's unit Alpha Dhabi Holding also advanced more than 4 percent.

The Qatari index, which traded after a session's break, gained 0.7 percent, as most of its constituent stocks moved in positive territory, including petrochemical maker Industries Qatar, which was up 1.4 percent.

Outside the Gulf, Egypt's blue-chip index, closed slightly lower to 0.1 percent, extending its losses to a third consecutive session, with Egypt Kuwait Holding shedding 2.6 percent.