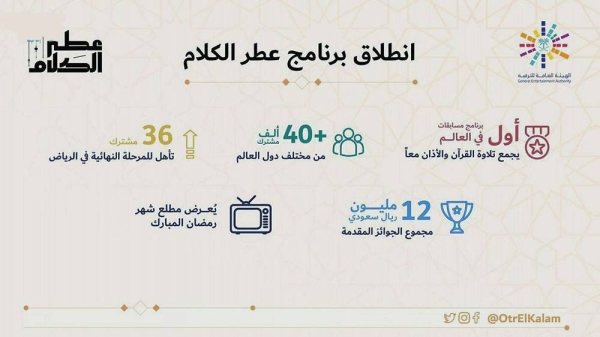 GEA launches Etr El-Kalam as first competition program combining Qur'an recitation and call to prayer
The General Entertainment Authority (GEA) has announced launching (Etr El-Kalam), the first competition show in the world that combines Qur'an recitation and the call to prayer on the first day of the blessed month of Ramadan.
The program will be broadcast on Saudi TV channel under GEA's supervision and organization.

Chairman of the Board of Directors of General Authority for Entertainment (GEA), Turki Bin Abdulmohsen Al-Sheikh had recently announced the launch of the program as one of the global initiatives, for which more than 40,000 contestants from 80 countries have applied, 36 participants of which qualified to the final stage.

The competition, which began and was in its early stages in 2019, aims to highlight the beautiful voices in the recitation and intonation of the Holy Qur'an and the call to prayer. The total value of the prizes is estimated at SR12 million ($3.2 million), representing one of the biggest financial awards in the world that target talented individuals in the field of recitation of the Holy Qur'an and the call to prayer.

The prizes for the most beautiful voice in Qur'an recitation include SR5 million for the first place; SR2 million for the second and SR1 million for the third winner, while the fourth place winner will receive SR500,000. As for the call to prayer competition, the first place winner will get SR2 million; SR1 million for second place and SR500,000 for third place while the fourth-place winner will get SR250,000.

The competition is distinguished by its accurate criteria and its jury that enhances competitiveness, through stages and qualifications through which qualified talents reach the final stages. The jury will include specialized individuals in this domain including muezzins from the Two Holy Mosques, the world's top reciters and the most famous judges for similar international competitions.

The GEA had invited participants from all over the world to apply for the competition, which did not require their physical presence in the Kingdom, rather, the application was made virtually and through advanced means of technology.