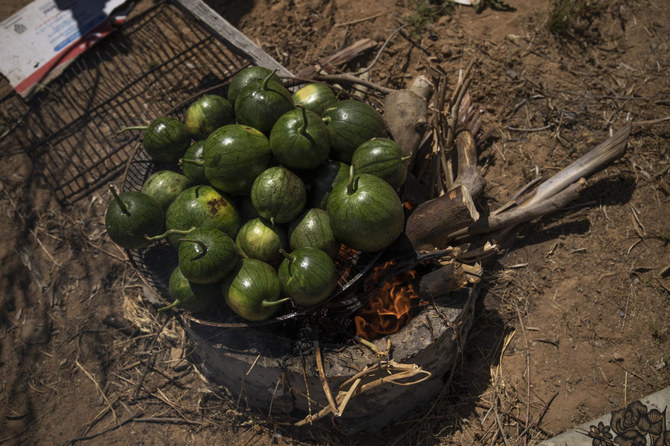 Gaza Strip's "Watermelon Salad" Divides Locals: Unorthodox Delicacy Sparks Debate
A unique delicacy known as "watermelon salad" has polarized residents of the southern Gaza Strip. Contrary to its name, this dish, called Lasima, deviates from the expected sweet and refreshing taste associated with watermelons.
Referred to as "Lasima," "Ajar," or "Qursa" depending on the region, this hot and savory meal requires hours of preparation. While watermelon is an ingredient, its flavor is hardly discernible. The dish has garnered mixed reactions in a territory known for its culinary traditions, with residents in southern Gaza embracing it while those in the north shun it due to its hands-on preparation.

Lasima is a seasonal delicacy available for just two months a year. It is made using small, unripe melons that are roasted, peeled, and mixed with roasted eggplants, thinly sliced tomatoes, lemon, garlic, onion, and olive oil. The mixture is then enjoyed with a special dough baked in the fire's ashes.

The dish is often served in a large clay bowl, earning its name "Lasima," meaning "messy." It is believed by some to have originated over a century ago with the Bedouin Arab tribes in Egypt's neighboring Sinai desert. Others claim it as a traditional Palestinian food, although evidence supporting this assertion is scarce, as the dish is primarily popular in southern Gaza near the Sinai border.

Seventy-year-old Amona Abu Rjila from Khuzaa recalls her parents and grandparents preparing Lasima outdoors during watermelon season, viewing it as a traditional Palestinian dish with Bedouin roots. However, farther north, the dish receives little recognition, with objections mainly directed at its perceived unclean preparation involving bare hands.

In an attempt to challenge the dish's negative perception, social media content creator Mohammed Aborjela distributed samples of Lasima in smaller clay pots to random passers-by in Gaza City. While many respondents had never heard of the dish before, those who tried it expressed their approval.

The video showcasing the tasting experience garnered over 1,000 comments, primarily from intrigued northerners who were curious about the taste but put off by the unconventional preparation methods. Some individuals expressed their reservations about the dish's appearance, while others were intrigued after watching a video featuring women preparing it using what they considered "clean cooking means."

As debates surrounding Lasima continue, the unique delicacy remains a source of culinary diversity within the Gaza Strip, offering distinct flavors that evoke varying opinions among locals.