Saudi Arabia's bid for Expo 2030 was not a one-off investment but rather one "in the future of our citizens, residents, and visitors," the head of the Royal Commission for Riyadh City, Fahd Al-Rasheed, said.
"We're thinking about the legacy of the site itself and how it can be used. It cannot be just built and then everybody packs their bags and leaves. It has to be used beyond us.

"So, we're thinking about the design of the buildings, and we have that in this site masterplan in a way that we can use them for the future of work, the future of education, and reskilling," he added.

Speaking with award-winning broadcaster Emma Crosby at a special fireside chat at the CNBC pavilion on the Davos promenade on the sidelines of the World Economic Forum's Annual Meeting, Al-Rasheed noted that the Expo 2030 infrastructure would come naturally given the work already being done regarding Crown Prince Mohammed bin Salman's Vision 2030.

His vision, however, for the Expo was not solely in the look and feel of the site, but in its legacy.

He said: "Our legacy from Expo 2030 is not going to be a building. It has to be mass engagement, and at a scale never seen before.
"It is literally the largest event in the world, and so what we committed to is the following; not only are we going to get 30, 40 million people to the site, which is fantastic, it's a record. We're going to get 1 billion people to interact with it on the metaverse and we are now translating that vision into reality."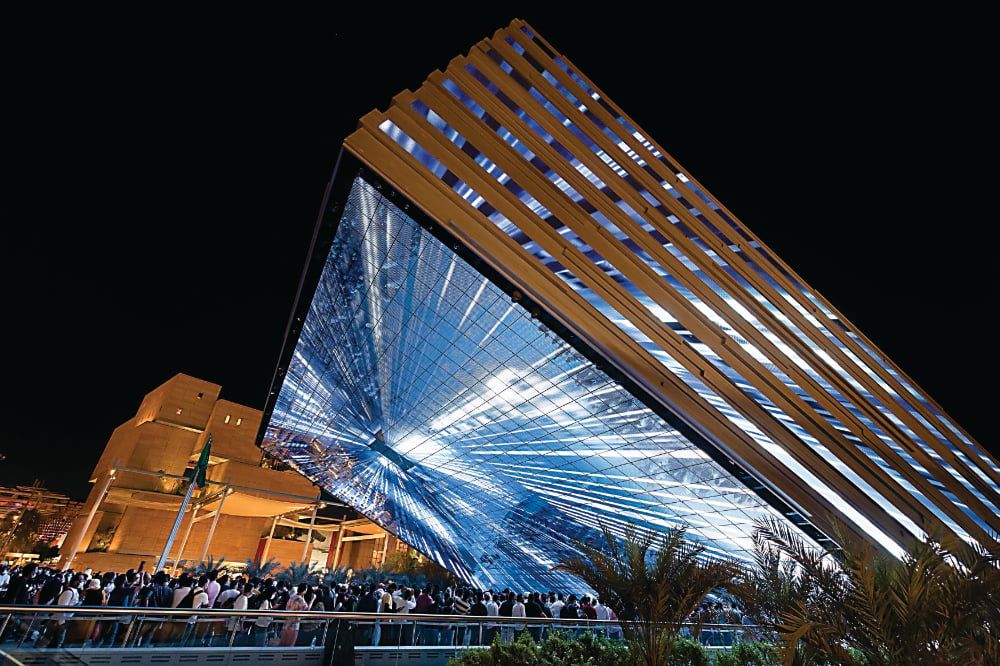 The Saudi Arabia Pavilion stands tall at Dubai Expo 2022, which drew 26 million visitors over six months.
The virtual Expo would cater for those unable to fly to Riyadh, but the RCRC's chief executive officer pointed out that it would be more than just a virtual tour.
"You'd give 1 billion people the opportunity to actually come and see it, and that would be the first win. The second win is they would actually come in and do something experiential about water use and energy use, learn something and apply it in their home. That will get you mass impact.
"And third, maybe even transact, do a job virtually, or meet somebody or a company, get an investment, et cetera. So again, it has to be useful to everybody for it to be used," Al-Rasheed added.
Even then, achieving an onsite presence of more than 30 million would be a feat not yet seen before, with the Dubai Expo 2020 attracting 26 million visitors over six months.
He said: "You have to have a great site, great mobility, which we are doing already now. And the metro will connect to the site. The site is just south of the airport. So, it's basically the gateway into the city of Riyadh. And we are going to have 140,000 rooms and hotel rooms by then anyway. And so, the Expo will come in naturally."
Saudi Arabia is no stranger to hosting millions of visitors, given that it is home to the Two Holy Mosques which bring in millions of pilgrims every year for Hajj in Makkah.
However, that is not to say that creating such a complex site will come cheap. A whopping $8 billion of investment from the Kingdom will be going into making the plans become a reality.
"It's a very large investment. We believe that this investment is totally justified. We have a return-on-investment target as well for it. We have a socio-economic target on jobs created both during the Expo and before and after.
"So, the government of Saudi Arabia doesn't just put money into buildings and infrastructure and white elephants. We actually want a return on investment out of everything that we do," Al-Rasheed added.
On the Expo's theme, The Foresight of Tomorrow, he said: "It means that we have to take responsibility for our future, whether we are countries, companies, or individuals.
"We have to project the next two, three decades and look at the opportunities that it's going to avail, and the challenges, and tackle them. We need to stare them right in the face."
Within this theme lies three subthemes: A Different Tomorrow, Climate Action, and Prosperity for All.
To paint a picture of the first sub theme, Al-Rasheed gave the example of how robotics could reformat a 200-employee factory into one that only needed three employees.
"The plant is more productive, but what happens to 197 employees that you just basically moved out of a job? You have to think about reskilling. So, by confronting the problem, I immediately thought about what I need to do in order to manage from a socio-economic perspective.
"You have the same thing on the second subtheme, which is climate action. What do we need to do? Not just as countries meeting and suits, et cetera, talking about what the future would look like, but what do I as an individual contribute? How do I use water differently, energy differently? What is my role?"
And on the third subtheme, he added: "How can we provide opportunity for everyone? They may not take it, but we have to provide it."
The capital has already begun working on climate action and sustainability, with more than $70 billion invested in such projects.
Al-Rasheed said: "We said we cannot announce a strategy of hypergrowth without having a sustainability commitment. So, last year we actually announced the real sustainability strategy.
"We love our environment, we love our city, and we have a commitment to the world. So, we will change all our systems, we will change all our plans. We will make 30 percent of our cars, electric vehicles by 2030 and 50 percent renewable energy sources by 2030."
The fireside chat was attended by numerous WEF delegates, business executives, journalists, and investors.
Saudi Arabia submitted its bid for the World Expo 2030 in October last year, in a letter sent by Crown Prince Mohammed bin Salman to the Bureau International des Expositions, the international organizing body for the global event since 1931.
The Kingdom has already earned significant support for its bid from more than 60 countries and organizations around the world, including China, France, Turkiye, Greece, Armenia, Cuba, dozens of other African nations, and the Organization of Islamic Cooperation.
The Kingdom 's capital is competing against Busan in South Korea, Rome in Italy, and Odesa in Ukraine for Expo 2030, with a ballot to be held by the BIE in November 2023, on the principle of one country, one vote.