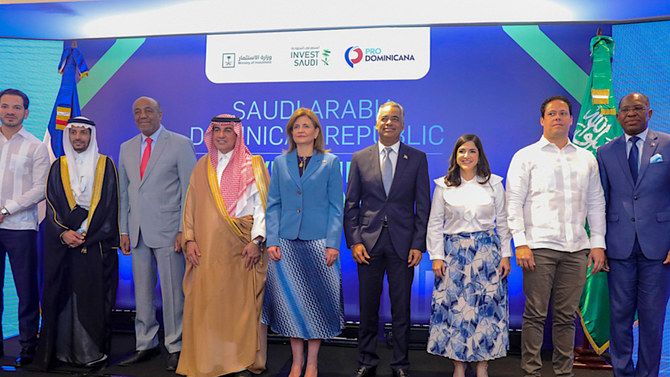 Dominican Republic gives backing to Saudi Arabia Expo 2030 bid
Vice President of the Dominican Republic Raquel Pena, who also chairs the Investment Promotion Cabinet, organized a meeting between representatives of Saudi Arabia and the Dominican Republic on Friday, during which they discussed business projects and opportunities.
During the meeting, the vice president announced that the Dominican Government will support Saudi Arabia in its candidacy for the World Expo 2030.

She described the meeting as "an ideal opportunity" to work together and promote a joint agenda to boost bilateral trade and facilitate access to new markets.

During the meeting, Pena showcased investment opportunities in the Dominican Republic to the Saudi delegation. Last year, the Dominican Republic attracted over $4 billion in investments — a record for the country, and a 25-percent increase on 2021.

"We are proactively looking for new business opportunities between our two countries, and we are aiming at facilitating and increasing the exchange of strategic data for business cooperation, in an environment favoring political and macroeconomic stability as well as legal confidence. Accordingly, this event represents an unparalleled opportunity to join efforts based on one practical agenda and to promote higher levels of bilateral cooperation on the scientific, cultural and educational levels," Pena said.

The meeting was also attended by the Dominican Export and Investment Center (ProDominicana) and the Saudi Ministry of Investment, represented by vice minister Badr Al-Badr.

ProDominicana's executive director, Biviana Riveiro Disla, said that it is vital for the Dominican Republic to strengthen commercial ties with a country like Saudi Arabia. Disla stated that, over the last seven years, bilateral trade between the two countries exceeded $126 million. She confirmed that ProDominicana is interested in exploring new ways to expand the exchange of goods and investments through the Single Investment Window.

The Saudi delegation consisted of more than 60 people from the energy, construction, tourism, real estate, medical care, food and beverage, banking and finance, petrochemical, pharmaceutical, legal, aviation, mining, and industry sectors.

The meeting was also attended by officials from the ministries of energy, economy and tourism, the Saudi Fund for Development and the Royal Commission of Riyadh City, and business leaders and government representatives from the Dominican Republic.