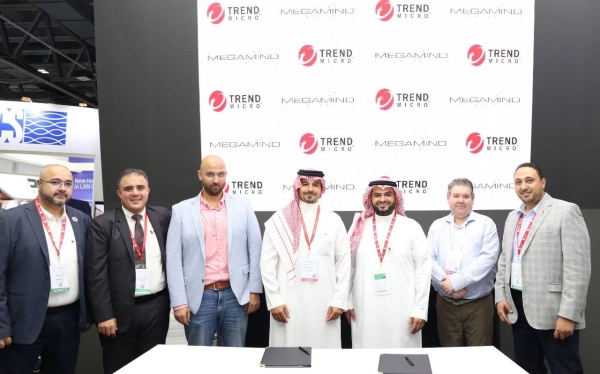 Trend Micro forges strategic partnership with Megamind
Trend Micro Incorporated (TYO: 4704; TSE: 4704), a global leader in cybersecurity solutions, announced the signing of a Memorandum of Understanding (MoU) with Megamind, the IT arm of BAB Holdings, at the recently held GITEX Global event at the Dubai World Trade Centre. The partnership aims to help build stronger cybersecurity resilience for The Global Health Care Service Provider, BAB Holding.
This initiative brings together Trend Micro and Megamind, one of the leading information technology companies in the Middle East & Africa region and Pakistan, to make available cybersecurity products, services, and solutions required by BAB and its subsidiaries in the Middle East, Africa, and Pakistan. As per the agreement, Trend Micro will also support Megamind in any further expansion of future development of digital environments across the region. The MoU was signed by Hamza Sobhi Batterjee, President, Megamind, and Rasheed Al Odah, Country Managing Director, KSA, Trend Micro.

"Megamind's collaboration with Trend Micro is an opportune occasion to create a stronger and resilient front against modern-day digital challenges," says Hamza Sobhi Batterjee, President, Megamind. "As we adopt new technologies to help enhance the digital capabilities of organisations under BAB, it is essential that we work closely together and deploy industry-leading cybersecurity innovations that have the power to protect every aspect of business operations. Megamind looks forward to developing innovative and robust strategies safeguarding future organizational ventures with the support of Trend Micro's expertise and solutions."

"The modern digital era has changed the way organisations across the country conduct business, requiring the best security solutions and strategies that protect their digital assets," says Rasheed Al Odah, Country Managing Director, KSA, Trend Micro. "We at Trend Micro are pleased to build upon our partnership with Mastermind and deliver state-of-the-art cybersecurity technology that not only safeguards the digital environments but also becomes an enabler of accelerated growth. As the threat landscape rapidly evolves and the attack surface continues to expand, we remain committed to supporting the nation's organisations' operations and digital ambitions."

Trend Micro aims to ensure that organisations in the country adopt best practices, advanced cybersecurity technology, and future-proof strategies. According to the latest findings of the Trend Micro 2022 Midyear Cybersecurity Report, Trend Micro solutions helped protect KSA from over 28 million email threats, nearly 14 million malware attacks, and close to 6 million URL Victims' attacks.

This partnership builds upon the establishment of the Trend Micro MEA headquarters in Riyadh, in collaboration with the Saudi Federation for Cybersecurity and Programming and Drones (SAFCSP) and the Saudi Arabia Ministry of Communications and Information (MCIT) to further strengthen the kingdom's cybersecurity posture.