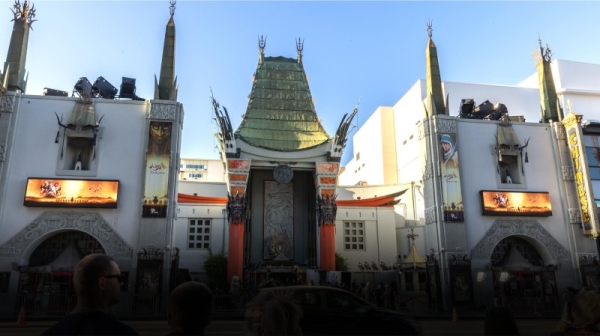 The Journey: First Saudi film screened at Hollywood's Chinese Theater
The animation feature "The Journey" premiered at the Chinese Film Theater in Hollywood, US, by Manga Production Company, which is part of the Mohammed bin Salman Foundation (MiSK). This is the first time a Saudi Arabian film has been screened at this historic venue.
The Journey, directed by Shizuno Kobon, is a fantasy based on ancient civilizations of the Arabian Peninsula and the Middle East. It was produced by Manga Productions in Saudi Arabia and Toei Animation Co., Ltd. in Japan. The film has already received favorable reviews from critics, audiences, and the media in the Middle East and North Africa region, as well as Japan.

Manga Productions announced the signing of a distribution partnership with Crunchyroll, a leading film platform and distribution business, to support its strategy of becoming a global competitor in the film industry, which coincided with the American premiere. Crunchyroll has begun releasing The Journey to more than 50 platforms in North and South America, with over 125 million users, allowing viewers to learn about Arabian Peninsula culture.

"Saudi and Arab cinemas were able to record their presence in Hollywood, the capital of the cinematic film industry, by screening in this old Chinese movie theater, as this will be the beginning of upcoming cinematic films through Manga Productions," said Dr. Essam Bukhari, CEO of Manga Productions. "We're particularly happy of our collaboration with Crunchyroll, the world's largest animation platform, with which we'll aim to spread Saudi art and creativity around the world by supporting Saudi creators and talents."

Eng. Abdulaziz Naghmoush, Director of Manga Productions' Marketing, Distribution, and Business Development Department, said, "The Journey is now shown on 20 platforms in Japan, and we have previously signed distribution contracts in the Arab world, Japan, Asia and Europe, where The Journey obtained distribution rights. The screening of the film in the Chinese Theater in Hollywood, in the presence of the media and film critics, is the culmination of these efforts and the international appreciation of Saudi film production."

The character of Aus, the film's hero, is voiced by Johnny Yong Bosch, who is also known for playing Shotaro Kaneda in the film "Akira."

Christopher Judge, "God of War" voice actor is playing "Abraha". While "Nizar" is voiced by Christopher Sabat, who played Vegeta in the Dragon Ball series. The English subtitle was written by Dean Batali, producer and writer of "Buffy the Vampire Slayer" and Jim Krueger, an Eisner Award-winning comedian (Marvel Comics, DC Comics).