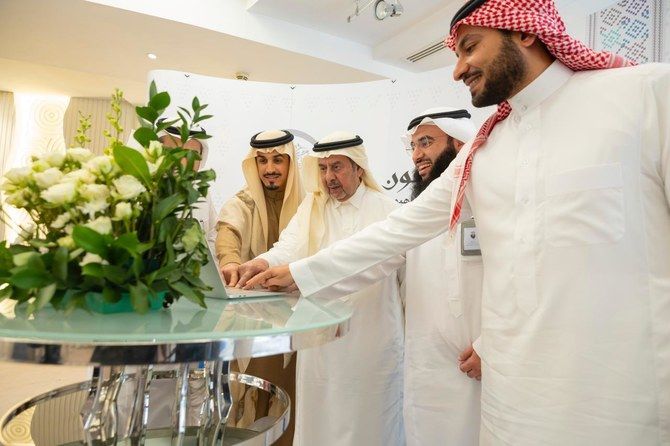 Saudi success stories honored at Esameyoon 2023
Esameyoon honors successful Saudi entrepreneurs who have made their mark in the business world, and its fifth initiative has begun its registration phase.
Launched by Mohammed Ibrahim Al-Subaie and Sons Investment Co., or MASIC, in 2019, public and private sector leaders assembled for this year's event.

Those attending included: Prince Sultan bin Khalid bin Faisal Al-Saud, CEO of the Saudi Industrial Development Fund; Osama Al-Zamil, deputy minister of industry and mineral resources; Rayan Al-Fayez, deputy governor of the General Authority for Small and Medium Enterprises; Mohamed Al-Morshed, vice chairman of the board of directors of the Riyadh Chamber of Commerce; and Ibrahim bin Mohammed Al-Subaie, chairman of the board of directors of MASIC.

The initiative includes four categories and awards for self-made individual, commercial, industrial, and social entrepreneurship. The winner of each receives a cash prize of SR100,000 ($26,600).

Mohammed Al-Maghlouth, the director of entrepreneurship accelerators at the General Authority for Small and Medium Enterprises, said that establishments had been keen to support entrepreneurs to motivate young people to become self-employed, adding that entrepreneurship had a key role in supporting the business sector in the Kingdom.

Al-Maghlouth praised the decision to award one of the prizes this year to social entrepreneurship projects, especially given the importance of this sector in meeting needs and solving problems in a socially innovative and financially sustainable manner.

Nasser Al-Subaie, vice chairman of MASIC, said that the launch of the initiative was due to his company's belief in the societal role of the private sector, and the need for its active participation in everything that would support, develop and diversify the national economy.

Saad Al-Sayari, the chairman of Esameyoon's executive committee, said that the initiative was aimed primarily at honoring entrepreneurs who have successfully established their name in the world of commerce.

He added the awards required applicants to be Saudi, leaders in their field, and have their headquarters in the Kingdom.

He said that the initiative was keen to adhere to the highest standards of transparency by adopting clear and impartial procedures in the selection of winners, and by hiring independent judges, including business-minded dignitaries and experts.

Saudi entrepreneurs are invited to apply on esameyoon.com. Registration is open until March 11 and winners will be announced on May 14.