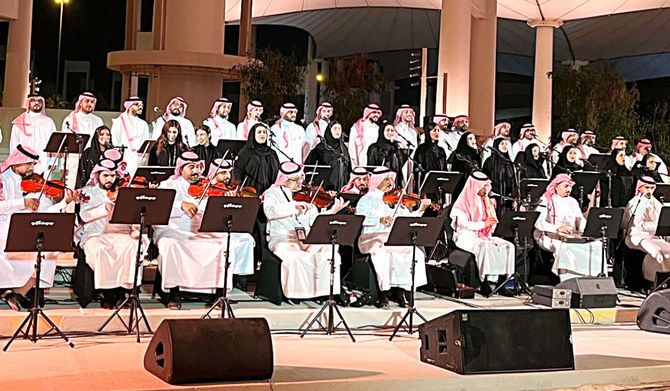 Saudi orchestra, choir hits high note at Jeddah's Islamic Arts Biennale
The Saudi National Orchestra and Choir hit all the right notes with an "exquisite" performance at the Islamic Arts Biennale in Jeddah.
Seventy musicians and singers on Monday belted out a selection of Islamic chants, instrumental pieces, and traditional Saudi musical numbers in a show titled Beauty and Grace.

Performing under the umbrella of the Saudi Music Commission, the tunes were picked to blend with the artwork on display at the Western Hajj Terminal venue.

Aya Al-Bakree, chief executive officer of Diriyah Biennale Foundation, told Arab News: "The exquisite Saudi Orchestra's performance is part of Diriyah Biennale Foundation's Creative Experiences public programming series for audiences of all ages, marking the final days of the incredible Islamic Arts Biennale.

"We are profoundly grateful to the Ministry of Culture's Music Commission for enabling this meaningful collaboration that celebrates exceptional Saudi Arabian talent and artistic expression on an international platform, which is a central tenet of our work at the foundation," she said.

By combining music and visual art, event organizers aimed to highlight the importance of music in local and global culture, celebrating national pieces representing the Kingdom's rich heritage.

Donya Abdulhadi, senior adviser at the Diriyah Biennale Foundation, said: "Diriyah Biennale Foundation's Islamic Arts Biennale was not only the first biennale dedicated to the Islamic arts in world history, but has also been recognized among the most impactful cultural initiatives in Saudi Arabia, showcasing homegrown talent on an international stage.

"Working with the Music Commission in hosting the Saudi Orchestra represents the spirit of continued collaboration within the cultural ecosystem nationwide and is symbolic of Saudi Arabia's contribution to the arts at an international scale."

Mohammed Ghani, who attended the event with his family, said: "We are proud of Saudi cultural music, and these kinds of platforms create not only music enthusiasm among the young people but also help in shaping the future of the country's music scene."

The contemporary arts and culture event hosted by the foundation, which ended on Tuesday, featured artworks by 60 established and emerging artists from Saudi Arabia and around the world, along with more than 60 new commissions and 280 historical artifacts.