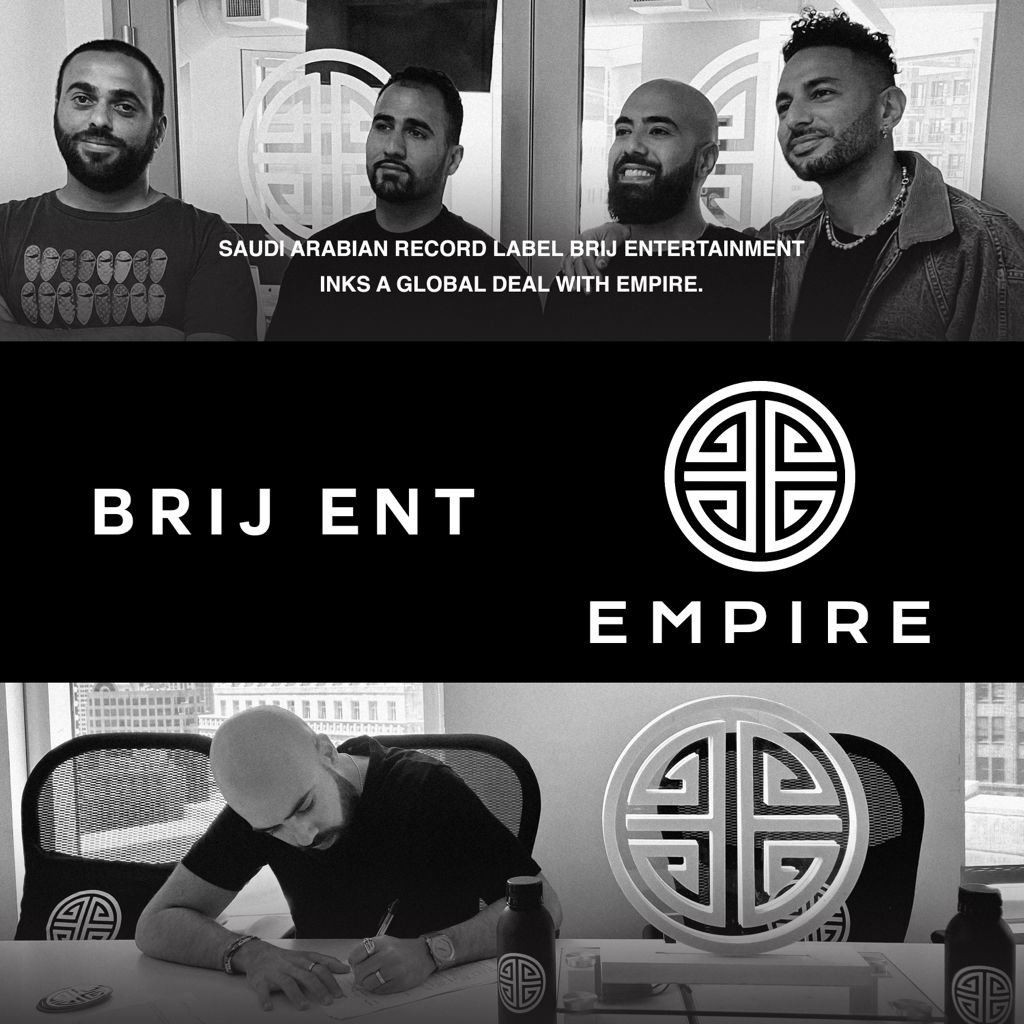 Saudi Arabian Record Label Brij Entertainment Inks Global Partnership Deal with EMPIRE
Partnerships are important in business, especially in the music industry. In recent development, Saudi Arabian record label Brij Entertainment has signed a landmark multi-year global partnership with San Francisco-based independent music company EMPIRE, founded by Ghazi Shami.
The deal between the two companies will see EMPIRE providing strategic distribution services to all of Brij Entertainment's artists and aid the record label's global expansion plans. The two companies moved beyond cultural gaps to create a partnership for the common good. The partnership is in line with Brij Entertainment's diversification plans and aims to explore the unforeseen regional talent that exists within the WANA region.

Brij Entertainment's co-owners, Saüd Alturki and Abdul Rahman Hajaj, known as the new ambassadors for music in Saudi Arabia, have expressed their enthusiasm about the partnership and how much it can do in bridging cultures worldwide.

In a joint statement, they said, "We are honored to have the opportunity to build a solid partnership with a global powerhouse like EMPIRE, as we travel globally with our vision."

Talking about their vision for Brij Entertainment, Saüd shared, "Our main focus is to export our culture in the most fruitful way and document the emerging artistic expression in today's Saudi. We couldn't be more excited about working with the EMPIRE team to make history and bridge the cultural gap through music to bring the world closer together."

Building Brij Entertainment came naturally to Saüd and Hajaj, as they are well-grounded in the music industry themselves. Saüd is an international producer, curator and businessman who has collaborated with international stars like DJ Khaled, Swizz Beatz, Talib Kweli, Royce Da 5'9″ and many others. Hajaj, his partner, is a music producer, singer and songwriter who has just released his highly anticipated single titled "High No More," produced by Aidan Glover, "High No More" was recorded to tape at Talbot Studios London in collaboration with Rhys Lewis (No Right To Love You), mixed by Richard Wilkinson (Adele, Amy Winehouse), and mastered by Gwyn Mathias (Gerry Rafferty, Baker Street). The single will be followed by the release of his full EP "Last Call for Coco."

Listen to "High No More" on Spotify.

In the wake of the new deal with EMPIRE, Brij Entertainment has a long list of projects in work, including its internationally acclaimed "Tent Sessions," and the projection of the labels other artists such as Sudanese R&B singer, Zii. Zii's project, Look What You Started, will be released later this year as Brij Entertainment looks forward to putting talents from all over the world on the global map.

The company is in alignment with Saudi Arabia's vision 2030, which is focused on diversification in all sectors. Brij Entertainment will continue to do so by promoting, supporting and developing local independent musical artists. To actualize this, Brij Entertainment Studios and headquarters will open up its doors in Riyadh, Saudi Arabia.

With success being the ultimate goal for Brij Entertainment, EMPIRE will also be taking the opportunity to expand into newer territories and help get quality music out into the world regardless of culture, region or race.