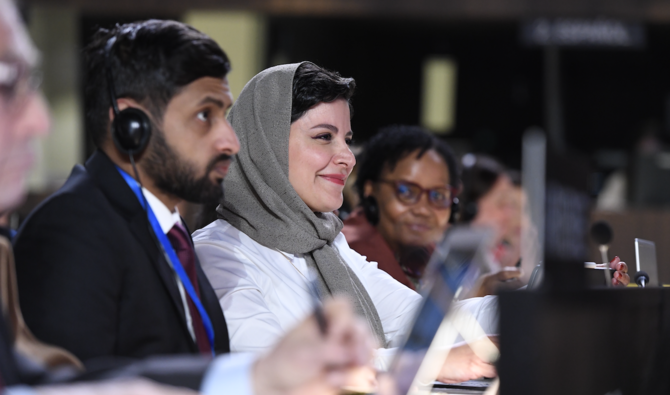 Princess Haifa Al-Mogrin highlights Saudi Arabia's involvement in UNESCO activities
Saudi Arabia's ambassador to the UN Educational, Scientific, and Cultural Organization on Monday highlighted the importance of the Kingdom's involvement in the agency's work.
Speaking at the opening of the 216th session of UNESCO's Executive Council, in Paris, Princess Haifa Al-Mogrin noted that the key aims of the organization were to establish the foundations of peace and deepen international cooperation among its 193 member states.

She said: "We are convinced of the necessity of mutual assistance for peace and to achieve the goals of the 2030 sustainable development agenda, which are in line with the principles of Saudi Vision 2030."

Al-Mogrin, president of the council's world heritage, and program and external relations committees, thanked delegates for their interest in a resolution submitted by Saudi Arabia and Kuwait during the 215th council session aimed at establishing a global framework for open science in the face of pandemics.

The princess has been the Kingdom's permanent delegate to UNESCO since January 2020. She gained a master's degree in economics from the School of Oriental and African Studies at the University of London and a bachelor's degree in the same subject from King Saud University.

Prior to her appointment to UNESCO, she held the positions of deputy assistant minister for sustainable development affairs from December 2017 to January 2020, and acting deputy assistant minister for G20 affairs from March 2018 to January 2020.

She pointed out that Saudi Arabia supported the strategy for developing states and said her country looked forward to its implementation.

She noted the success of the World Conference on Cultural Policies and Sustainable Development held in Mexico last year, highlighting the importance of including the cultural dimension in the formulation of the UN agenda for sustainable development beyond 2030.

She added that Saudi Arabia had hosted the World Ministerial Conference on Ethics and Integrity in Sport, in February.

"This was the first conference of its kind, and we had a significant presence of high-level participants," Princess Haifa added.

She also highlighted the importance of the partnership between the Royal Commission for AlUla and UNESCO, an alliance that aimed to preserve documentary heritage worldwide, raise awareness about it, and activate its potential as a resource for intercultural dialogue and global citizenship education.

The UNESCO council session will run at the organization's headquarters in Paris until May 24, and the princess will lead the meetings of the Program and External Relations Commission taking place from May 17 to 19.