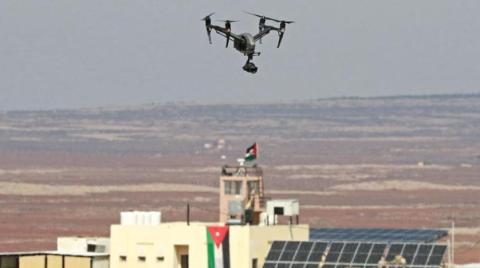 Jordan Army Thwarts Drugs Smuggling Operation from Syria
The Jordanian army announced on Saturday that its forces busted an operation to smuggle drugs across the border from Syria.
They seized over 600,000 Captagon pills and 578 palm-sized sheets of hashish.

A source at the command headquarters said that troops applied the rules of engagement, which led to the injury of one of the smugglers and the others retreated inside Syrian territory, reported the state news agency Petra.

A vehicle loaded with large quantities of drugs, including the palm-sized sheets of hashish, 6447,000 Captagon pills, 1,876 Lyrica narcotic capsules, as well as devices and equipment set for smuggling were seized, the source said, adding that the contraband was referred to the competent authorities.

The source reiterated that Jordanian armed forces will deal with all force to prevent any infiltration or smuggling attempt, protect the border and stand firmly against those who try to tamper with Jordan's national security.

In February, Jordan declared that drug trafficking from Syria into the kingdom was becoming "organized" with smugglers stepping up operations and using sophisticated equipment including drones.

Since the beginning of this year, Jordan's army has killed 30 smugglers and foiled attempts to smuggle into the kingdom from Syria 16 million Captagon pills -- more than they seized in the whole of 2021 -- the military said.

On January 27, the army said it killed 27 traffickers in a clash as they tried to enter the kingdom from Syria.

Some 160 groups of traffickers are operating in southern Syrian, near the border with Jordan, according to a Jordanian official.

Large amounts of illegal drugs have been seized since the beginning of the year.

This included 17,348 packs of hashish and more than 16 million Captagon pills -- compared to 15.5 million pills for all of 2021 and 1.4 million pills in 2020.

Captagon is an amphetamine-type stimulant manufactured mostly in Lebanon, although probably also in Iraq and Syria, and is popular across the region.