The seized cocaine was of the finest quality, according to Italian police, and would have earned drug traffickers more than €800 million in street sales in Armenia, where it was destined.
Thanks to the help of a highly-skilled drug sniffer dog and specialised scanners, police in southern Italy have seized 2,700 kilograms of cocaine hidden in a most unlikely place -- a banana shipment from Guayaquil, Ecuador.

According to police, the drug seized on Tuesday was hidden in about 70,000 kilograms of boxed bananas stashed in two containers travelling on a cargo ship which had stopped in the port of Gioia Tauro, in the southern region of Calabria.

Gioia Tauro, the "toe" of the boot-shaped Italian peninsula, is considered a stronghold of the 'Ndrangheta -- a mafia-style criminal organisation that has developed uniquely in the region of Calabria and which, in recent years, has become a major player in the international drug-trafficking trade.

The bananas and their illegal travel companion were on their way to Batumi, in Georgia, before reaching their final destination in Armenia, according to authorities.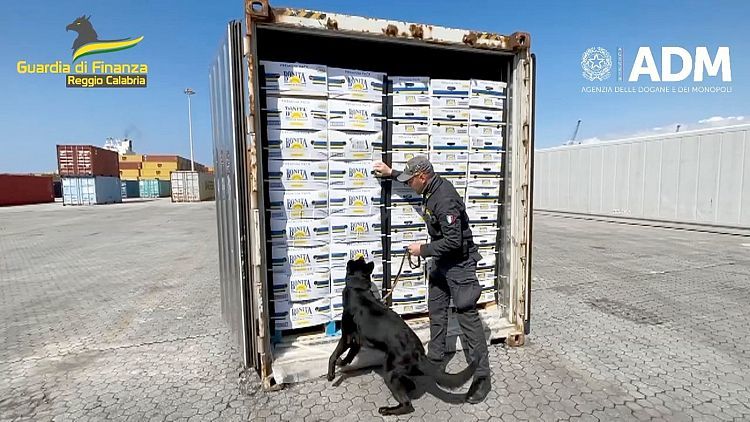 But before the shipment could be sent off to the landlocked country in the Caucasus, police managed to infiltrate the haul and discover the cocaine stashed in the banana crates. Police told Italian state radio that documents and a background check indicated the shippers of the bananas weren't in the business of moving that much fruit.

A sniffer dog called Joel played a key role in the seizure, uncovering packets of cocaine hidden in boxes stacked inside the containers.

Italian police estimated that the cocaine seized was of the finest quality and could have brought traffickers a gain of over more than 800 million euros in street sales in Armenia.

Just days before the seizure of cocaine in the banana boxes on Tuesday, customs police said that at the same port, authorities found some 600 kilograms of cocaine in six container trucks which was also carrying fruit from Ecuador. Those shipments had been destined for Croatia, Greece and Georgia.