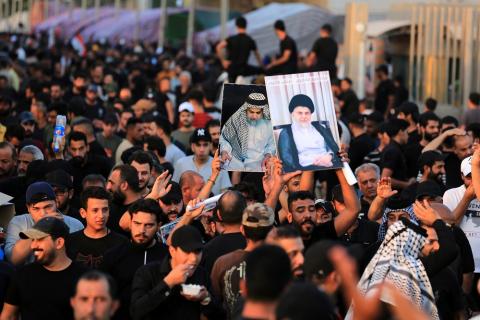 Iraqis Await Federal Court's Decision on Dissolution of Parliament
Iraqis are awaiting the decision of the Federal Supreme Court over the dissolution of parliament after leader of the Sadrist movement, Shiite cleric Moqtada al-Sadr, had given it 72 hours to make a ruling.
The deadline ends on Monday.

The court had, however, set Tuesday as a date for looking into complaints filed by Sadrist leaders over the dissolution of the legislature.

The Sadrists allege that the parliament had failed in fulfilling its tasks and constitutional duties in the nine months since its formation.

The Sadrists are hoping that the Federal Court would dissolve parliament, which would lead to early elections.

Legal experts, however, predict that the court will only reiterate statements by the Supreme Judicial Council last week, when it said the dissolution of the parliament was beyond its jurisdiction.

Meanwhile, a spokesman for the Sadrist movement called on Sunday for the establishment of a new Iraq, devoid of militias, illegal possession of weapons, violence, fighting, sectarianism and warring parties.

Saleh Mohammed al-Iraqi, a close associate to Sadr, urged the establishment of a state of law "where brotherhood prevails, minorities are dignified, the judiciary is honest, balanced ties are forged with the outside, peace can reign, the army can protect, the government can serve, and religions and creeds are respected."

Iraqi had on Saturday called for holding new parliamentary elections in the country without the participation of all parties and politicians that have been part of the political scene since the 2003 American occupation.

Sadr won the largest share of seats in the October elections but failed to form a majority government, leading to what has become one of the worst political crises in Iraq in recent years.

His bloc later resigned from parliament and his supporters last month stormed the parliament building in Baghdad. His supporters have been holding a sit-in at parliament ever since.