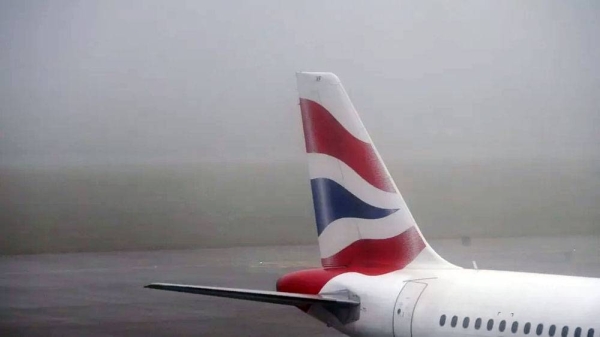 Dozens of flights canceled at Heathrow Airport due to freezing fog
Dozens of flights have been canceled at Heathrow due to freezing fog.
British Airways, the largest carrier at the UKs busiest airport, has axed around 80 flights.

Airlines were told on Sunday night they would have to reduce the number of flights they are operating by about 15% due to the weather and Air Traffic Control restrictions.

Monday was the coldest night at the airport in more than a decade, with temperatures falling to -8.4C.

It was the lowest temperature recorded since December 2010, and the coldest January night since 1987.

Across the UK the lowest temperature was in Santon Downham, Suffolk, where it dropped to -9.8C.

Temperatures in the UK were warmest in Scotland, with temperatures of 10.1C in Kinlochewe in the Scottish Highlands.

Online departure boards at Heathrow showed cancelations to destinations including Berlin, Amsterdam and Miami.

Services on Sunday evening were also impacted.

A Met Office yellow weather warning for fog was in place until 11:00 GMT on Monday for parts of southern and eastern England.

Passengers voiced their frustrations over the travel disruption on social media.

"I was supposed to fly yesterday, got canceled and rebooked to today. Canceled again, rebooked to tomorrow. What's happening?" wrote one user on Twitter.

"My flight to Milan canceled! No seats available on alternative flights, now had to cancel a week's worth of business in Italy! #Heathrow" Said another passenger.

In a statement, British Airways said it had "apologized to customers whose flights have been affected" and it was "doing everything we can to get them on their way as quickly as possible".

It advised customers to check its website before traveling to the airport.

It said customers affected by the cancelations are being offered refunds or the option to book onto an alternative flight. Where necessary the airline has also provided refreshments and hotel accommodation, it said.

A spokesman for Heathrow said poor visibility was forecast for Monday morning at the airport and across the southeast of England.

"While there may be minor changes to [Monday's] schedule as a result of the weather, we want to reassure passengers that our colleagues are working in close collaboration with our airline and air traffic control partners to get them safely away on their journeys as quickly as possible," he said.

The BBC's lead weather presenter Simon King said freezing fog is "defined as the situation when the visibility is less than one kilometer combined with an air temperature of less than 0C".

"Despite the air temperature being freezing, water droplets in the fog will remain as water and not ice — called supercooled water droplets. However, when these water droplets hit frozen surfaces, it turns to ice, creating hazardous conditions," he explained.

"It causes delays at airports in particular as the freezing fog forms a layer of thin ice on airplanes which will need to be de-iced."

BBC Weather said the freezing fog overnight on Sunday evening and Monday morning developed due to a combination of "light winds and clear skies".

It added the fog would disperse as the day goes on, but would remain in some places.