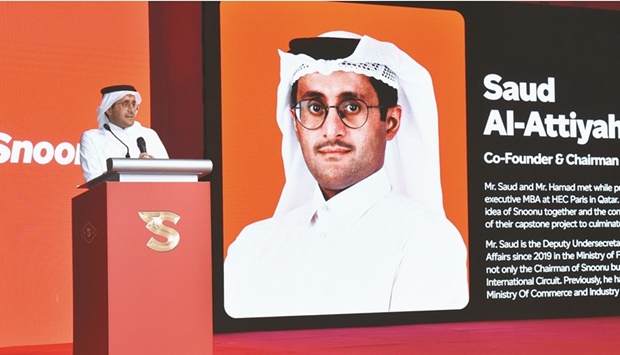 Snoonu acquires major Omani food delivery platform
The two companies signed an agreement during the Snoonu Gala that was held on Saturday at Sheraton Doha in the presence of senior officials from the two companies.
Qatar's leading tech startup Snoonu has acquired Akeed, a major Omani food delivery platform with a network of more than 1,000 restaurants and grocery stores, for $10mn.

The two companies signed an agreement during the Snoonu Gala that was held on Saturday at Sheraton Doha in the presence of senior officials from the two companies.

It was attended by members from the executive management of both companies, as well as high-profile delegates, prominent stakeholders and leading figures from across the local and regional business and entrepreneurship sectors.

The new deal comes as part of Snoonu's plans to expand its network to more countries. "This milestone is considered the first ever achieved by a local tech startup in Qatar.

It serves as a step propelling the rising company forward and bringing it closer to achieving its goal of becoming the first local tech Unicorn company.

The agreement will also shore up Snoonu's business objectives that aim to diversify and expand the company's operations across the region," Snoonu said in a statement.

Hamad Mubarak al-Hajri, CEO and co-founder of Snoonu, said the acquisition of Akeed was a decision taken "based on the company's stellar reputation as one of the leading food delivery platforms in our sisterly Sultanate of Oman"."Akeed's wide network of restaurants and grocery stores will enable us to establish a solid foothold in the Omani market as our initial step towards an expanded regional presence and involvement," he said.

According to figures, Snoonu maintains a fleet of more than 2,000 riders to provide a fast and affordable delivery solution across Qatar while enabling merchants to unlock unexplored areas and customer segments as far as 25km.

Also, Snoonu allows brands to increase their reach by giving them access to Snoonu's marketing platform and customers from a greater distance.

Al-Hajri noted that gross merchandise volume has grown remarkably while showing continuous year-on-year growth with approximately six times growth
between 2020 and 2021.

The number of merchants partnering with Snoonu has reached 3,500 while Snoonu's orders have shown continuous year-on-year growth with approximately eight times growth between 2020 and 2021.

He explained that Snoonu has further expansion plans, spreading its wings to cosmetics, tech, laundry, health, tailoring and logistics services.

He noted that neighbouring areas such as Saudi Arabia along with some other GCC countries, Pakistan and Turkey exhibit a great potential with a $105bn market to expand into, adding that Oman and Kuwait with similar demographics are Snoonu's key target areas in 2022.

"This amazing milestone is quite exciting for us because it reinforces our efforts towards becoming Qatar's first-ever tech Unicorn.

We owe it to the country and its visionary leadership to continue to seek growth around the world and to contribute towards the fulfilment of Qatar National Vision 2030." he added.

Akeed CEO and co-founder Gaurav Anil Nahar said they were excited about this agreement with Snoonu and look forward to a future vision that would bring the latest in the e-commerce and logistics services industry to Oman."The Akeed team is happy to be joining hands with such a successful brand from Qatar, and we believe that this deal will add more value to both markets," he said.

Snoonu co-founder and chairman Saud al-Attiyah and other senior Snoonu officials also spoke at the event.

Snoonu is a one-stop-shop application, facilitating online shopping, lifestyle, food, grocery delivery and third-party logistics services for startups and SMEs in Qatar.

In addition to offering its customers a seamless service and speedy deliveries for their items, the company is a pioneer, contributing to the development of the local tech economy by encouraging innovation and revolutionising local online services.