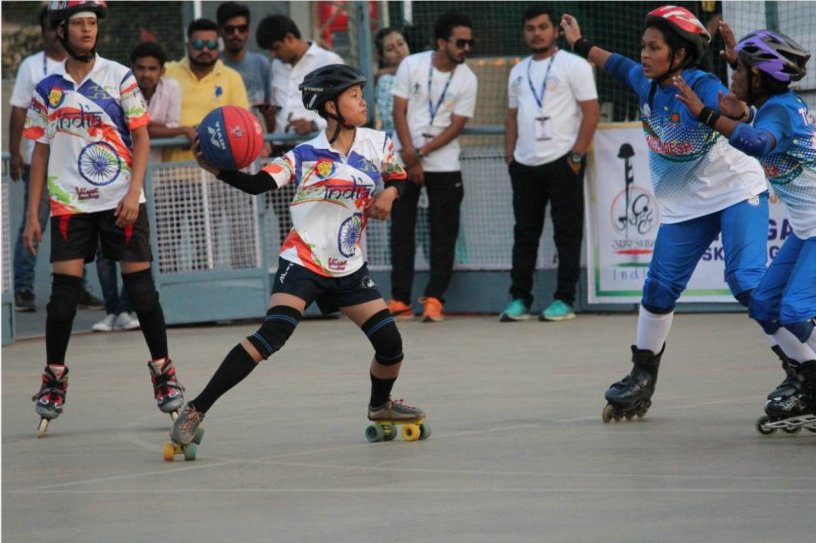 Saudi roll ball players set sights on international stage after Kingdom hosts sport's 1st tournament
Saudi Arabia's roll ball players have set their sights on competing on the international stage after the Kingdom hosted its first tournament for the sport.
But one leading female player highlighted the need for more training facilities in the country in order for teams to reach the levels required.

Fay Al-Jizani recently took part in the first Skating Sports Championship (Roll Ball) competition to be held in the Kingdom, organized by the Saudi Arabian Extreme Sports Federation. The three-day event, held in Jeddah and and also hosting a men's edition, ended with Al-Souqoor (The Hawks) beating the Saudi Skating female team in the final.

"We suffer from a lack of dedicated stadiums, such as closed halls. We are looking for places to practice the sport, such as private schools, and are keen to train on a weekly basis under the supervision of a coach," Al-Jizani, born and based in Jeddah, said.

"Roll ball is great fun and we hope to be able to compete in international championships to raise the Kingdom's name high. But the sport still requires a lot of attention to develop players."

The 19-year-old's parents were initially against her taking up the sport due to the injury risks, but they have now become her biggest supporters.

Roll ball uses a unique combination of roller skates, basketball, handball, and throwball and is played on roller shoes and with protective clothing. Each team consists of 12 players, six (including a goalkeeper) on the field and six in reserve, and games follow rules similar to those used for handball.

Al-Jizani said the game was ideal for improving the physical and mental health of adults and children.

The first Saudi women's team included Al-Jizani, Raeah Al-Attas, Soumaya Mohammed, Hager Mohammed, Razan Mohammed, Rahma Mohammed, Ilham Assiri, Afaf Al-Blushi, Shahad Maher, Raghad Maher, Najat Bamufleh, Mays Al-Shehri, and Rawand Ahmed.