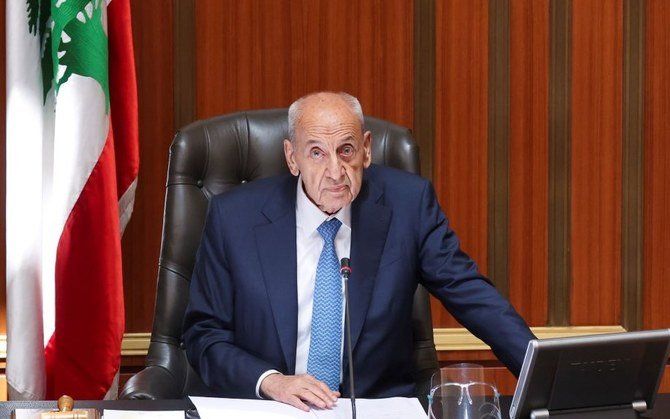 Lebanese parliament fails to elect new president for 3rd time
Lebanon's parliament has failed for a third time to elect a successor to President Michel Aoun, stoking fears of a political vacuum after his mandate expires on Oct. 31.
Parliamentary Speaker Nabih Berri called for another vote on Monday in the hope of quelling long-running disagreements among political factions in the country.

The adjournment on Thursday came after MPs of Hezbollah, the Amal Movement, and the Free Patriotic Movement exited the assembly hall while the media was broadcasting live.

A total of 119 MPs attended the session and voted, although many were convinced that no president would be elected.

A total of 55 blank votes were cast, with 42 voting for MP Michel Mouawad, 17 for New Lebanon, and one for Milad Abou Malhab, with four ballots disqualified from the vote.

In the first round of voting, the candidate must obtain a two-thirds majority, or 86 votes, to win. In the event of a second round, the required majority is 65 votes.

Hezbollah and its allies are following the strategy of either casting blank votes or disrupting quorum.

MP Imad Al-Hout told Arab News: "We will remain in this vicious circle until consensus is reached over a single candidate.

"We tried to have a president who represents half of the Lebanese, not all of them, and chaos befell us.

"Shall we repeat the experience, or do we search for a president who embraces all the Lebanese, works for the interest of Lebanon, and is a president who has a clear economic vision and does not confront the other half of the Lebanese?"

He added: "There are 55 blank votes — not all of them are Hezbollah MPs.

"If we can negotiate with them, and I do not mean Hezbollah, to vote for a candidate who would please everyone, we will be successful.

"I am not talking about reaching a settlement. We have already tried that, and it ruined our country.

"If we can agree on a candidate but Hezbollah still rejects him, then it would be the party's responsibility, not ours."

Mouawad said he was a serious candidate who did not wait for settlements and compromises. His candidacy is supported by the Lebanese Forces, the Progressive Socialist Party, the Kataeb Party, and independent blocs.

He said: "The other parties' insistence on a president who wins a two-thirds majority means that they want a submissive president who has no opinion, which means the country will continue to collapse."

Independent MP Michel Daher said the country was on the brink of total chaos.

"There is no government and no presidential elections: Vacuum and paralysis at all levels. This will be followed by constitutional and security chaos," he added.

Reformist MP Paula Yacoubian criticized the parties in power, and said: "We are living a disgraceful play."

MP Hadi Abul-Hassan, from the Democratic Gathering bloc, said: "The reformist MPs are confused and lost. Meanwhile, other parties insist on disrupting election sessions. Politics are not a place for confusion, lack of experience, or political strife."

Hezbollah MP Hassan Fadlallah said before the session that no president would be elected.

"Disrupting quorum is a democratic right, otherwise the constitution would not have mentioned the quorum. We are against electing a provocative and defiant president. We want a president with whom the parliamentary blocs agree," he added.

Aoun is expected to leave the presidential palace on Sunday for his residence in Rabieh, accompanied by a convoy of supporters, ending six years in power.