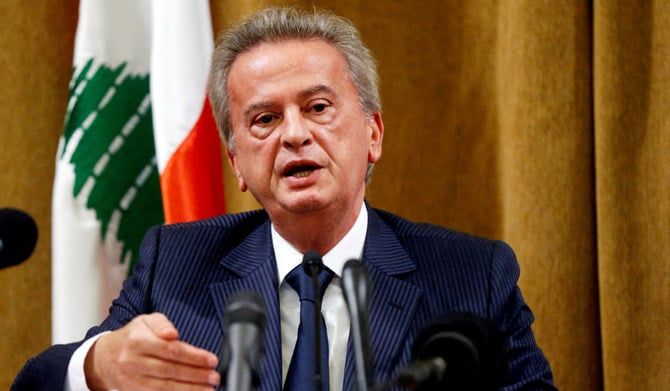 Lebanese bankers and officials questioned by European delegation in financial probe
A European legal team on Friday wrapped up the first round of questioning of Lebanese bankers and current and former Central Bank officials in Beirut.
The questioning is part of a probe into money laundering linked to Central Bank Governor Riad Salameh.

The delegation will quiz Salameh, in addition to some of his relatives, in the second round of the investigation, said State Prosecutor Judge Ghassan Oueidat.

The European team — with representatives from France, Germany, and Luxembourg — has questioned 12 bankers as witnesses at Beirut's Justice Palace.

It completed the first round of its probe into cases related to corruption, forgery, use of forged documents, embezzlement, money laundering and transfer of funds to banks abroad.

The team leaves Beirut on Saturday and will return at a later date, said Oueidat.

He added that the delegation previously provided the relevant judicial authorities with a list containing 30 names requested for investigation, among which 18 are yet to be questioned.

He said: "When the delegation sets a date for its second visit, it will provide us with the names that should be informed of the interrogation dates."

On Friday the delegation questioned Raya Al-Hassan, a former minister and the chairperson of the board of directors of Bankmed, and Ramzi Akkawi, an employee in a private audit firm.

It had previously quizzed Walid Makfour, an employee in an audit firm; Nabih Asaaf, a member of the Banking Control Commission; Pierre Kanaan, head of the Legal Affairs Department at the Central Bank; and Samir Hanna, chairman of the board of directors of Bank Audi.

Oueidat praised the way affairs had been handled by the European and Lebanese judiciaries, and respected the fact that the witnesses were quizzed by Lebanese judges.

He said: "They did a good job and they don't need our help. We provided professional judicial assistance."

Oueidat said the investigation was underway to find out whether Salameh had received $330 million through his brother's company, Forry Associates.

He added: "What we know is that Lebanon's Eurobonds debt amounts to $90 billion.

"If the commission results from the underwritten amount as said, then it's a considerably significant commission compared with the underwritten amount.

"In other terms, there is a commission, but it is not that big."

Arab News has learned from a judicial source that there are fears that the European delegation might take hold of the seized funds and not return them to Lebanon.