Saudia and the University of Prince Mugrin celebrated the graduation of the first batch of students from the In-Flight Chef program at the Saudia club hall in Jeddah.
The ceremony was attended by Bandar Hajjar, president of Prince Mugrin University; Ibrahim Al-Omar, Saudia Group director general; as well as elite Saudi chefs including Dareen Shaker, Khulood Olaqi and Sama Jaad. Media members, families and friends of the graduates were also present.
During the graduation ceremony, 35 qualified Saudi in-flight chefs walked proudly toward the stage to cherish the momentum of their achievement after succeeding in the one-year culinary journey.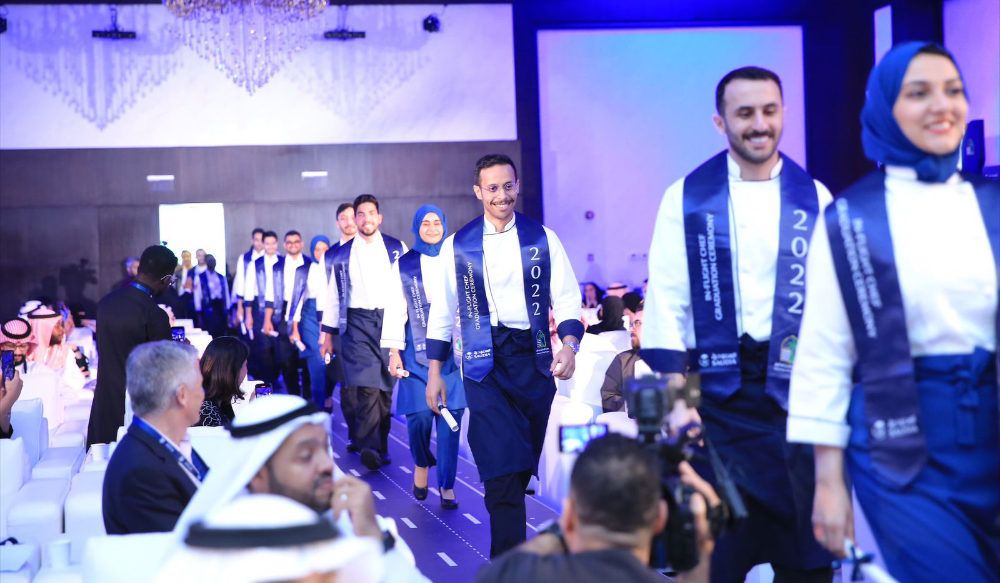 The first batch of In-Flight Chef program graduates included only 4 females out of 35.
Throughout the program, graduates were exposed to international cuisines as they were instructed by a group of Saudi and global professional chefs. Since they represent Saudi Airlines, they will have the privilege to introduce Saudi passengers to many traditional dishes with a twist.
The one-year program included six months of theoretical training at UPM and two months of practical training at world luxury hotels such as the Ritz Carlton and Hilton. The program concluded with safety and security sessions at Prince Sultan Aviation Academy.
The 35 chefs officially graduated last December and were immediately employed by Saudia as full-time in-flight chefs.
Prof. Abdulkareem Alalwani, vice president of UPM Business Development, said in opening remarks: "This partnership aims to follow the goals of the Kingdom's Vision 2030, as the UPM aspires to achieve excellence in qualitative applied education and innovative research as a contribution to the advancement of society, and to meet the needs of the labor market and to provide sustainable development."
He added: "The university has provided this training program that ends with employment in cooperation with Saudia Airlines and the Human Resources Development Fund, which qualifies chefs who are passionate learners."
Ahmed Babtain, vice president of human resources at Saudia, said: "The program is qualitatively designed, as it includes on-board service methods, awareness of safety standards and protocols, and culinary and hospitality industry skills."
Babtain added that the aviation industry is witnessing intense competition, and providing quality service on-board while maintaining the highest standards has become a key point of difference between airlines.
"The program provides a competitive edge by delivering an exceptional guest experience," he added.
Saudi Flight Chef Supervisor Ihsan Khalawi told Arab News that the first batch of graduates were carefully selected, and that they "are a lot more than chefs."
He added: "They are all very passionate about what they do. It is what led them to this big step. Every one of them resamples a talent as they have merged cooking with presenting, photography and social media content creating."
Chef Rawa Hanafi, one of four female graduates, said: "I am speechless. I am so grateful to Saudia because they have given us a chance to experience the true kitchen journey in the best and most professional hotels."
Becoming a chef requires patience, and tolerating and accepting criticism is key, said graduate Turkey Badawi, 28, who holds a bachelor's degree in human resources management.
Badawi added: "It is my dream job to fly and cook. This job combines what I love and wish for — my dream indeed came true."
The graduates showed their support to family members for supporting them during the program. Among the family members was Ayman Najjar, a retired flight attendant who served in many positions with Saudia. He said that it was time for his daughter to continue the path.
"It is an indescribable happiness to witness this day where my daughter Mai had the chance to become a great chef and to work with the same company I did."
Mai said that the program helped her to become "very creative" in culinary arts, adding that she was "very grateful" for her father and husband for providing her with support.
Saudia employs more than 180 in-flight chefs. It has also increased the percentage of Saudi employees from three to 22 percent.
The national carrier connects four continents with more than 100 destinations globally and operates one of the world's youngest fleets, with over 140 aircraft.