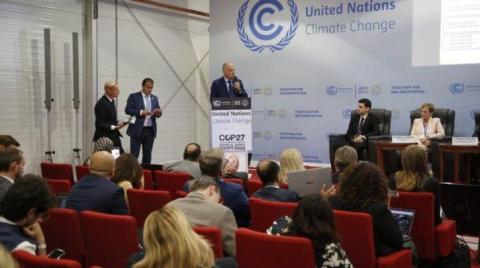 Egypt Hopes to Reach Agreement on GERD 'Soon'
Egypt hopes to reach an agreement on the controversial giant hydropower dam Ethiopia is building on the Blue Nile and resume talks with Addis Ababa in this regard "soon".
Minister of Irrigation and Water Resources Hani Swailem said that the water withheld by the dam is taken from the shares of the downstream countries. However, he affirmed that Egypt's share is highly secured.

He pointed in televised statements on Monday to Cairo's keenness to preserve its water security and secure its water resources.

Swailem said that research centers in Egypt are developing strains that can withstand high levels of salinity.

He pointed out that Cairo seeks to make optimal use of the available water through rational use and water recycling, in addition to desalination of seawater.

"The Egyptian citizen's share of water is less than half the minimum global per capita share of water," the minister noted.

The massive $4.2 billion Grand Ethiopian Renaissance Dam (GERD), set to be the largest hydro-electric scheme in Africa, has been at the center of a regional dispute ever since Ethiopia broke ground on the project in 2011.

Cairo says the project threatens its "rights" in the waters of the Nile River, calling for a binding legal agreement with Addis Ababa and Khartoum that regulates the rules of filling and operating the dam and preserving its water security.

Cairo has reiterated its demand that Egypt, Ethiopia, and Sudan reach a legally-binding agreement to fill and operate the dam and preserve its water security.

Egypt suffers from a scarcity of water resources and needs about 114 billion cubic meters annually, while the available water resources amount to 74 billion cubic meters.

The Nile water accounts for about 97 percent of Egypt's needs or 55.5 billion cubic meters.

It is expecting a shortage in its water share as Addis Ababa begins operating the GERD on the Nile River.

During a meeting with the Speaker of the US House of Representatives, Nancy Pelosi, and her accompanying delegation, on the sidelines of COP 27, last week, Egyptian President Abdel Fattah El-Sisi explained the dispute with Ethiopia.

He stressed - according to the official spokesman - "the firm position on the necessity of reaching a binding legal agreement on filling and operating the dam, in order to achieve the interests of all parties and maintain Egypt's water security."

Negotiations between the three countries, sponsored by the African Union, have been frozen since April 2021, after their failure to achieve a breakthrough. Consequently, Egypt submitted a protest letter to the UN Security Council, demanding pressure on Ethiopia through international partners.

In order to overcome the crisis, the Ministry of Irrigation has prepared a plan to manage water in Egypt until 2037 with investments of more than $50 billion.

The plan aims to improve water quality, develop new water resources, rationalize the use of currently available resources, and create a supportive environment for water issues.